October 2019 Newsletter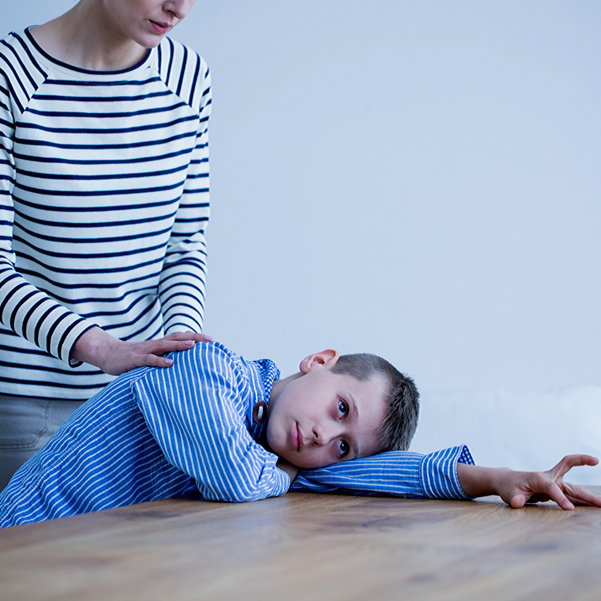 Dear Reader,
The festive season has gone by and as usual we did not miss any chance for celebrating – be it Krishna Janmashtami, Diwali or the usual birthday celebrations. The energy, air of expectation amongst our students is seen to be believed. In this edition of our newsletter we have also covered an important topic – that of temperature insensitivity – how it affects individuals with ASD. We have touched upon how Visual learning techniques are an effective way of learning. All of us have different learning mechanisms – be it by reading (sometimes over and over again), observing how others do things, questioning the topic's application, buddying/shadowing but as Confucius said – I hear and I forget, I see and I remember, I do and I understand. With our students Visual learning is the key.
Our endeavor to provide quality learning to students at Swabodhini would not have been possible without the generous, thoughtful and kind sponsorships from our sponsors. We are very thankful to them.
With regards
Usha Pillai
Director
Temperature Insensitivity And Air Conditioners Among Children And Adults With Autism Spectrum Disorder (ASD).
Temperature regulation is an automated body system that regulates body temperature in response to outside stimulus through neural feedback mechanisms in the brain.
Whereas children and adults with Autism Spectrum Disorders have issues in sensory processing integration, thereby suffer sensory processing disorder relating to temperature regulation. The person with Autism may not be able to adapt to changing temperatures adequately, or may not feel temperatures the same way an average person without Autism, does. For example, those children with such sensory difficulties may feel hot while others feel cold. They may exhibit hyper or hypo sensitivities to heat and cold if their environment temperature is not constant.
Heat intolerance is prevalent with children in warmer cities like Chennai. Heat intolerance is the feeling of being overheated when the temperature around you rises even slightly.
Common symptoms of heat intolerance among special needs children:
Feeling very hot in moderately warm temperatures
Excessive Sweating
Not sweating enough in the heat
Exhaustion and fatigue
Nausea, vomiting, or dizziness in response to heat
Mood swings and behavioral issue
Feeling stressful
Attention-deficit
Meltdown and emotional distress
Exhibit poor eating habits and loss of appetite
Lack of sleep and insomnia
Studies suggest that exposure to varying temperatures cause a disturbance in circadian rhythms which affects several bodily functions, growth hormones, sleep-wake cycle, thirst, eating patterns, hormone production and cell regeneration.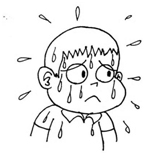 Importance of Air Conditioners:
When exposed to high temperatures, the brain stops concentrating becoming increasingly difficult for them to learn in a hot room. Also, many of my students take medications; they get tired more easily and feel sleepy in the warm room. The brain works best only at a comfortable temperature. A lot of time gets wasted in calming students with heat sensitivity during school hours. Air conditioning in classrooms creates a stable temperature and better air quality. It filters the air and clears toxins from the environment providing better health for students and staff. By providing a classroom with optimum temperature, we can expect the best outcome and improvement from students.
Air conditioning benefits everyone'.Raising awareness about ASD is essential to change attitudes towards it. Professionals involved in health, social services, education and employment must be able to recognize these issues and come forward to help these children.
Swabodhini strives to create an impact in the lives of these special children. We are happy to accept air conditions as donations for our classrooms. Your contribution towards this goal will not go to waste and will create a meaningful impact in the lives of exceptional children.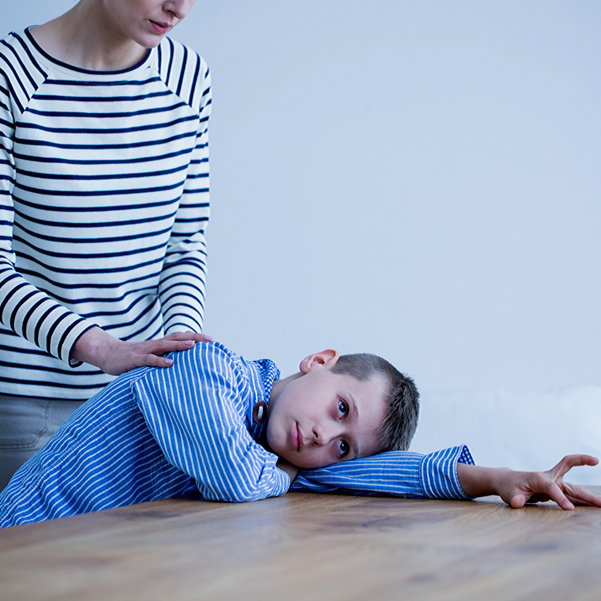 Student Of The Month By Mrs.Nirmala Devi - Class Teacher, Pre-Primary
Student Naveen With His Class Teacher Mrs.Nirmala Devi.
As educators, we firmly believe the Holistic Approach at Swabodhini.
Naveen Prasad, a seven-year-old boy with Autism Spectrum Disorder, joined the pre-primary section in this academic year with the issues of Communication difficulties, Transition, Poor toilet control , Excess screaming etc.Initially, rapport was built with the child by the teacher by playing few eye contact games. The child started believing theteacher and developed a good relationship with her.Gradually, the child was brought into the structure, and he began observing the surroundings and obeying theinstructions.Peer tutoring helped the child to imitate good behaviors.
Few of our learnings helped to reach the child:
 Meeting the emotions of the child
 Being Non-judgmental
 Trusting the child and giving unconditional love
 fewer instructions in the classroom
 Solving the problems with love
 Working with parents daily to help the child in every aspect
My heartfelt thanks to our former Co-Ordinator Ms.Suba Wesley for her continuous support and motivation
'Receive the children in reverence, educate them in love, and send them forth in freedom' – By Rudolph Steiner.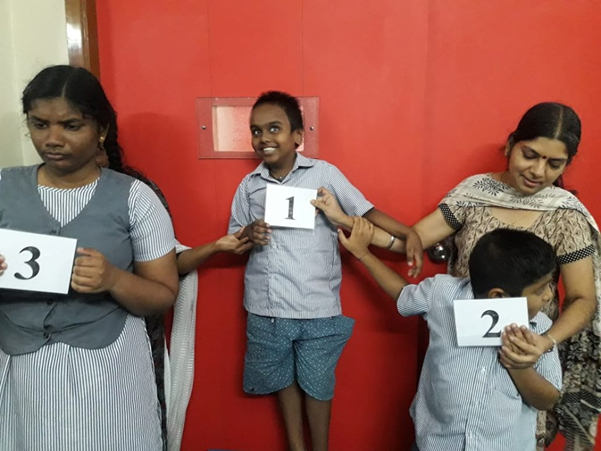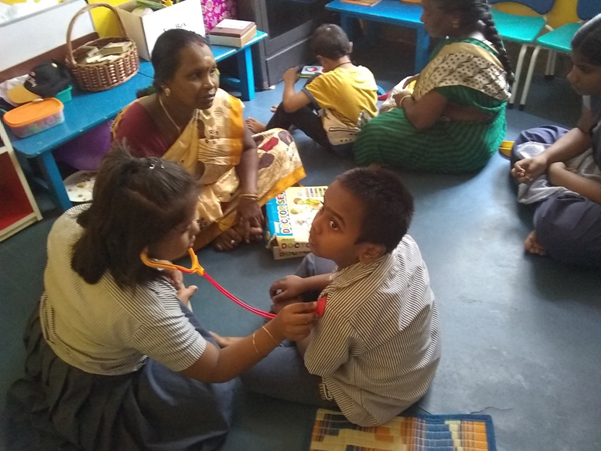 By Suba Wesley, Special Education Co-Ordinator
A visual schedule is an effective teaching technique for all children, and especially it is beneficial for children with special needs. We can teach anything through pictures. A visual schedule is straightforward. It is nothing but explaining the steps of specific activity by the help of images.
Choose a specific activity which you would like to teach or train the child
Split the task into many small steps according to the child's level.
Collect pictures from the internet relevant to the selected activity.
Print the photos and laminate them.
Make a board where you can stick and remove the pictures often.
Try to use the same words/phrase all the time
Should be simple and easy to pronounce
Show them visual schedule and explain before they do each step
Repeat and do every day until they become independent
One beautiful day they will be master in that specific activity.
How Montessori Environment Help Children With Autism Spectrum Disorder?
By Mrs. Lakshmi Prabha, Co-Ordinator Pre-Vocational.
"Respect all the reasonable forms of activity in which the child engages and try to understand them"- Maria Montessori.
Montessori (pronounced as MON-tuh-SORE-ee) is a comprehensive educational approach from birth to adulthoodbased on the observation of children's needs in different skills exposed.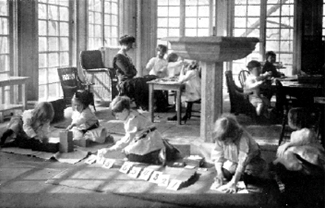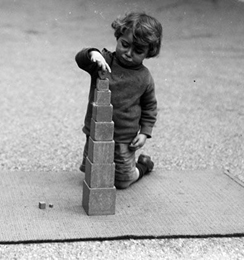 Sensorial Exercises were designed to cover quality that can be perceived by the senses such as size, shape, composition, texture, loudness or softness, matching, weight, temperature, etc. Because the exercises cover such a wide range of senses, these are categorized into groups such as Visual, Baric, Thermic, Auditory, Olfactory, Gustatory, and Stereognostic.
The Montessori environment contains specially designed, manipulative "materials for development" that invite children to engage in learning activities of their individual choice. Under the guidance of a trained teacher, children in a Montessori classroom learn by making discoveries with the materials, cultivating concentration, motivation, self-discipline, and a love for learning.
The Montessori method uses the term "sensitive period " to describe the critical learning phase during which a child 's developing brain is ready to learn a specific concept or skill. During these sensitive periods, the child learns quickly and eagerly. They repeat and repeat the same lesson until they decide they have finished. By this learning process, the child is letting us know their interests and abilities. Besides, the inner need to learn children also have an intrinsic need for some order or in other words, structure and when not met is likely to become disruptive and unruly.
Montessori materials help children to satisfy their sensorial need. Sensorial comes from the word senses or sense. The purpose and aim of sensorial work are for the child to acquire clear, conscious, information and to be able to then make classifications in the environment. Through this classification, the child is also offered the first steps in organizing his intelligence, which then leads to his adapting to his environment.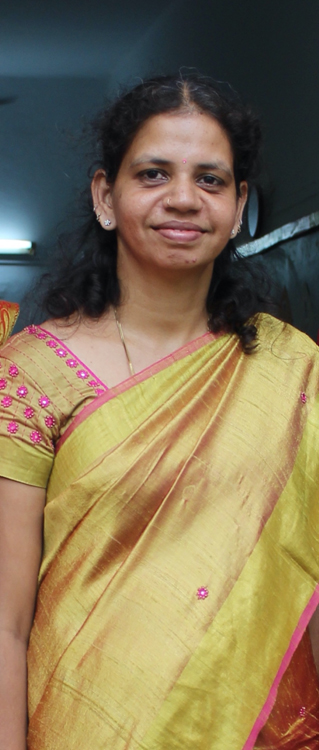 Thus the prepared environment provides a consistent and safe environment where children from multi-aged peer group can participate, benefit and choose from. This mode of learning allows children to observe the activity many times before attempting. The Montessori program also provides only a limited number of materials per day but enables the children to the flexibility to engage with what most interests them.
References:
Weblinks:
BVM global school is one of the leading schools in Chennai, providing holistic education. BVM believes that school education needs to prepare the next generation of children to become future-ready to succeed in the fast-changing world. Nine students from grade 12 of the psychology department visited Swabodhini to understand the physiological needs of special children. They interacted with pre-primary, Primary and Vocational students. The students were able to gain an understanding of learning challenges, difficulties in communication, behavioral or emotional issues of the special needs students.
Students of BVM School with Mrs.Radha Ganesan and Mrs.Anita Somerwell.
Devotees of ISKCON conducted 'Krishna Bhajan' on 21st October at Swabodhini Thiruvanmiyur campus on the occasion of Diwali. Ms.Sujatha Harikrishnan had organized the Bhajan. ISKCON has been performing Krishna Bhajans at Swabodhini for past two years in a row. Students of Swabodhini enjoyed participating in the Bhajan.
Not only Listening and singing of Bhajan impart serenity and peace of mind but also able to transform our thoughts. Listening of Bhajan helps help increase awareness, create a positive aura, relieve anxiety and improve immunity.
Internship Of NIEPMD Students At Swabodhini
National Institute for Empowerment of Persons with Multiple Disabilities was established in the year 2005. It is located on East Coast Road, Muttukadu, Chennai. The institute is under the supervision of Department of Empowerment of Persons with Disabilities (Divyangjan), Ministry of Social Justice & Empowerment, Govt. of India.
NIEPMD aims to serve as a national resource center for empowerment of persons with multiple disabilities such as those with two or more disabilities through equal participation of clients, families, professionals and community agencies.
Their mission is to provide need-based comprehensive rehabilitation through team approach facilitating inclusion, accessible environment, equal opportunities, positive attitudes, and ensuring empowerment of persons with multiple disabilities and their families.
Students pursuing Diploma in Special Education for Deaf and Blind course at NIEPMD underwent three weeks internship at Swabodhini to understand the requisites of teaching requirements for special needs students. The interns helped teachers of Swabodhini with lesson plans, activity planning, student assessments, preparation of teaching aids and manage the classroom.
Diwali 2019 - 'Celebration Of Good Triumphing Over Evil'.
Diwali celebrations are incomplete without lamps, fireworks, new dresses, sweets and loads of gifts. The school celebrated Diwali with religious zeal. The children came to school dressed in their colored clothes and excited to celebrate Diwali with their friends. It was a morning filled with fun and joy. Students returned home with happy faces and ready to enjoy their holidays. They decorated the campus with vibrant Rangoli and lamps. Teachers explained the importance of Diwali, the festival spiritually signifies the victory of light over darkness, knowledge over ignorance, good over evil, and hope over despair. Both teachers and students enjoyed the Diwali celebrations wholeheartedly.
No matter how old we grow, birthdays are always cherished and celebrated with great enthusiasm.
Students who celebrated their birthday in October: S.Priya, D.Deepak, S.Amruth and D.Dharshini.
Staff who celebrated their birthday in October: Mrs. Charumathi.