September 2019 Newsletter
Dear Reader
September was a month of consolidation at Swabodhini, as we concluded the first term with the assessments. Assessment – an important step in what we do, how we do, in what we have set out to do. In the classic Plan-Do-Check-Act cycle, without checking it is not possible to carry out any improvement. A very important piece in an education system is ensuring we have the right people is lead the team to guide on where to improve and how to improve. To further strengthen the team at Swabodhini, Mrs. Vimala Srinivasan has joined as the Head of Education. Mrs. Vimala brings with her a rich experience of three decades in the special needs segment having worked with Chrysalis and Vidya Sagar among other prestigious institutions. She is very passionate about bringing about a difference in the lives of the Special Students. Her perspectives on AAC – Augmentative or alternative communication in particular, will add more value as we continue to strive to make a difference in the lives of our students.
The progress review reports for Term 1 were discussed with parents and the roll out of Individualized Education Plan has begun for Term 2. Thank you for the overwhelming response to the request for purchase of products painted by Swabodhini students. We are sold out !! Orders are still being taken – so do write in.
You can connect with us on
Facebook: /SWABODHINI
Twitter: @SWABODHINIT
Instagram: /SWABODHINI_AUTISM
Youtube: /SWABODHINI
You dear Reader, along with parents, donors and sponsors bind us together in our mission of imparting quality education at Swabodhini. "That which binds" is Samyojana.
With regards for a bright, peaceful and harmonious festive season.
Usha Pillai Director
ushapillai@swabodhiniautism.org
Appointment Of Head Of Education
Mrs. Vimala started her career in The Spastic Society of Northern India in 1989 as a therapist, assessing children with neurological and physical impairment setting goals, giving programmes, prescribing Orthotic, positioning aids and adaptations. After that, she moved to Vidya Sagar and was in various roles – Vice Principal of home management, Coordinator of Vision Centre in the areas of Assessment, intervention and strategies in all areas of development. In the last assignment before joining Swabodhini, she held the role of Principal for Chrysalis School for Special Children.
She has been associated with Perkins International for early intervention training, physiotherapy, education, communication, orientation and mobility. She has been a resource person for NIPMED, Sense International, Voice & Vision, Clarke School and National Trust. She has trained Pediatric ophthalmologists and optometrists from Sankara Nethralaya at Chennai, Narayana Nethralya at Kolkata and Bengaluru and therapists from Udaipur in Physio and Vision. She also consults with the Eye Foundation at Coimbatore. She brings with her a rich experience and a passion and dedication to the field of special education.
Mrs. Vimala is a sought after speaker at various forums having presented papers at
 Dept. of Rehabilitation Science & Special Education, Holy Cross College, in Trichy on Early Intervention for CP children with Visual Impairment,
ISAAC Conference. (International Society for Alternative and Augmentative Communication, Avinashilingam College for Women in Coimbatore on Assessment & intervention strategies in learning difficulty,
 MERF Institute of Speech and Hearing on Functional Assessment for Children with Multiple Disabilities.
Swabodhini welcomes Mrs. Vimala as its Head of Education. She can be reached at vimala@swabodhiniautism.org.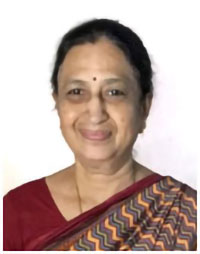 Admissions Open For TNSDC Skill Development Course @Swabodhini Campus:
Swabodhini's goal is to transform the lives of individuals with autism and related intellectual challenges. In-lieu of the same, We are proud to be one among the vocational skill training provider for TamilNadu skill Development Centre (TNSDC).
Tamil Nadu Skill Development Corporation was created to increase skilled manpower in Tamil Nadu to fulfil the skill needs of industries. TNSDC has identified reputed public and private skill training institutes for skill training so students can be easily placed in the respective sectors. TNSDC has so far trained 2,27,106 youth.
Swabodhini received TNSDC accreditation in the year 2018 for the following vocational courses:
DTP & Print Publishing
Retail Operations
Hospitality
Currently, admissions are open for DTP and Print Publishing course.
Aim of this course is to train students with special needs like Autism, Autism Spectrum disorder, Down syndrome, Mild Mental Retardation (MR) Issues and other Learning disability disorders in Desktop Publishing Operator (DTP) & Print Publishing Assistant Training.
No two Autistic individuals on the spectrum are the same. Considering such varying traits, the students need different levels of support and training to fulfil the curriculum. The students are also assessed, keeping in mind their capability level and limitations.
Course Curriculum includes:
Computer Fundamentals
Windows Operating system
Microsoft Office (MS)- An introduction to MS Word, Excel and PowerPoint
The Internet
Using email, search engine, go to a website, using Google search engine
Photoshop
Assessment & Project work
5-10 hours (split into two days) depending on the level of student
Industrial visits to office environment and interactions with employees.
Total No. Of Training Hours: 500
Outcome
After completion of the training, individuals participating in this course can:
Write, Edit and retrieve documents using MS Word, EXCEL and PowerPoint as per instruction
Printing, scanning and copying documents using available printer/scanner/copier as per instruction
Using the Internet to create and send Emails. Using the search engine to search for information online as per instruction
Using Photoshop to create and design documents with text and graphics option, like posters, visiting cards, wedding cards etc
Kindly contact school office for admissions.
Vision Assessment For Special Needs Children
By Mrs.Vimala Srinivasan, Head Of Education, Swabodhini
In healthy development, learning happens through sensory-motor experiences. Vison is integrating sense. We learn by seeing the shape, size, colour, direction, near and farthings, movements, faces, emotions, expressions etc. Seeing helps us to relate a name to a person, object or place. A child when young expresses his/her needs by getting eye contact, joint attention and pointing. Slowly they graduate from object to picture to symbol level. In children with special needs and non-verbal, the need to express is met with using Alternative and augmentative communication chart. The child starts expressing their needs, emotions, likes dislikes. Vision assessment helps us to understand whether the child is in the object, picture or symbol level, is there any visual perception issues or acuity or contrast issues and the adaptations needed to help the child use the existing vision. Vision helps us to learn, communicate, in orientation and mobility and our daily living skills
Vinayaka Chaturthi Celebrations:
Ganesh Chaturthi is one of the most widely celebrated festivals around the country. Lord Ganesha is one of the most revered Gods among Hindus. It is believed that every puja must start with the worship of Lord Ganesha. Lord Ganesha is also known as the 'Vighnaharta'- or the one who takes away all your problems.
By Ms. Suba Wesley
VBA is a language intervention strategy based on the work of B.F.Skinner. It is a powerful approach to addressing the language deficits of children on the autism spectrum and other neurological disorder. There are several domains of verbal behaviour; here, we are going to see 4 significant once.
Manding(requesting)
This refers to your child's ability to request items or activities
E.g.: Asking for a cookie when he wants one
Tacting(labelling)
This includes your child's ability to label items they encounter in their everyday life
E.g., Telling someone else when he sees a cookie
Echoics (vocal imitation)
This includes your child's ability to repeat the word/phrases
E.g.: Repeating "cookie" when someone else says, "cookie."
Intraverbals (conversational skills)
This refers to the ability to answers questions, complete fill-in-the-blank statements or otherwise carry a conversation
E.g.: Answering "cookie" in response to a question
What occurs during VBA treatment?
Verbal Behavior therapy begins by teaching commands (requests) as the most basic type of language. For example, the individual with autism learns that saying "cookie" can produce a cookie.
As soon as the student makes a request, the therapist repeats the word and presents the requested item. The therapist then uses the word again in the same context to reinforce the meaning.
The person does not have to say the actual word to receive the desired item. At first, he or she simply needs to make a request by any means (such as pointing). The person learns that communicating produces positive results.
The therapist then helps the student shape communication over time toward saying or signing the actual word.
In a typical session, the teacher asks a series of questions that combine easy and hard requests. This allows the student to be successful more often and reduces frustration. The teacher should vary the situations and instructions in ways that keep the student interested.
Who can benefit from Verbal Behavior therapy?
Young children beginning to learn the language
Older students with delayed or disordered speech
Children and adults who sign or use visual supports or other forms of assisted communication
Who provides VB?
A VB-trained therapist may be any of the following:
Psychologist
Behavior specialist (BCBA)
Special education teacher
Speech and language pathologist
Onam Celebrations At Swabodhini:
The word Onam is originated from the Sanskrit word Shravanam which refers to one of the 27 Nakshatars or constellations. Word 'Thiru' is used for Lord Vishnu and 'Thiruvonam' is the Nakshatra of Lord Vishnu. Onam is celebrated to mark the homecoming of the Great King Mahabali. Onam is also famous for the delicious nine-course meal is known as Onasadya. Onam is celebrated for 10 days, and the last day of the Onam is called the Thiruvonam. Students of Swabodhini celebrated Onam by decorating the entrance with Pookolam.
Dussehra Mela - Stall At World Bank
World Bank Dussehra Mela was held on 12th and 13th of September at their Taramani office, Students and staffs from the vocational department of Swabodhini had set up a stall. Aim of the stall was to sell diyas, agarbatti stands, sambrani stands and eco-friendly paper bags made by students of Swabodhini.
Navrathri Mela @MITR Cafe
Mitr is a cafe' started by a group of parents who came together to form the Special Child Assistance Network (SCAN) in the year 2015.
SCAN is a support group of parents of children with disabilities like autism spectrum disorder, cerebral palsy, Down's syndrome, intellectual disability, Dyslexia, ADHD, etc. Fun activities like storytelling, pottery-making, Zumba are regularly conducted @Mitr
Swabodhini's vocational products were on sale during the 'Navrathri Mela' held last week at the cafe.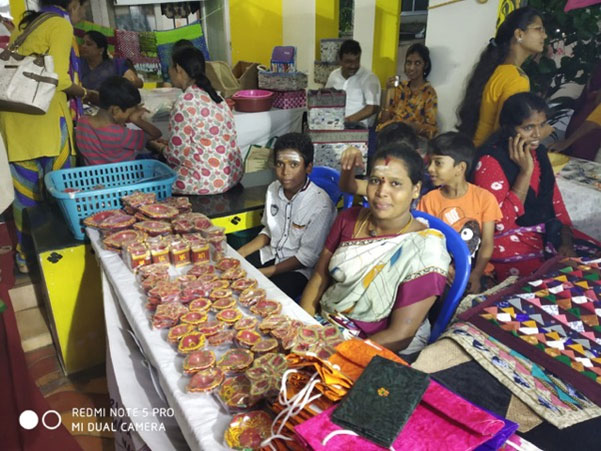 Swabodhini Stall at Mitr café.
Navrathri Golu : Festival Of Dolls
Golu is the festive display of dolls and figurines arranged in steps.
Children recite slokas, sing devotional songs and eat protein-rich sundal every evening. Women exchange betel leaves, betel nuts, coconuts, fruits, flowers, bangles, turmeric, kumkum and return gifts. It is an essential occasion for socializing for women and children and also a platform to showcase their creativity.
At Swabodhini, the students helped the staff arrange the dolls and figurines. Display of golu is kept at both centers.
At Swabodhini, birthdays are celebrated with great enthusiasm by the students.
Students who celebrated their birthday: Sabarish and Aarav Sinha.
Staff who celebrated their birthday: Mrs.Usha Pillai, Ms.Abirami, Ms.Jayanthi and Ms.Latha.