Assisted Employment
Assisted Employment Program
Grundfos – Assisted Employment Initiative
Student Name

Year

Karthik ( Special needs Trainee)
Kavya, Hari Kumaresh, Srinath (Assisted employment cell Interns)
2022
Joshua, Shaktisree, Venkatesh, and Andrews (Assisted employment cell Interns)
2021
Yuvaraj, Vaishnav (Placement)
2016
Balaji, Hari (Placement)
2010
Swabodhini stepped in to our new venture, Assisted Employment Program with lot of hope and ambition. Our first of its kind "place and train" Assisted Employment Program was initiated in 2021 in partnership with Grundfos Pumps India Private Limited. The Assisted Employment Unit started functioning within the premises of Grundfos and trains the students of Swabodhini's Vocational students on the job and places them in to mainstream employment wherever possible. Our students are given an opportunity to be on the same footing as their peers, and also to actively contribute to their family by earning a monthly stipend.
The ambitious "Assisted Employment Program" which is a first of its kind initiative follows a "place and train" approach to inclusive employment. Students will be placed first and will be trained to transition from school to work environment in a structured manner. Students will be given a firsthand experience of real job environment and a qualified "job coach" would assist and train the students in their transition by slowly easing them in to social and professional etiquettes.
We are proud to share that all the students in the unit are showing promising developments and have adapted very well to the rigors of a full working day, with some students being promoted to the next level of training.
At the time of Covid and its challenges, this success story comes as a breath of fresh air. Our heartfelt thanks to the staff and Management of Grundfos Pumps India Pvt. Ltd. for having given them the opportunity and going the extra mile in ensuring that they get a platform to prove themselves.
Swabodhini continues on its mission to create awareness for inclusive living, thus creating a movement that would grow slowly, gradually, often painfully but nevertheless steadily.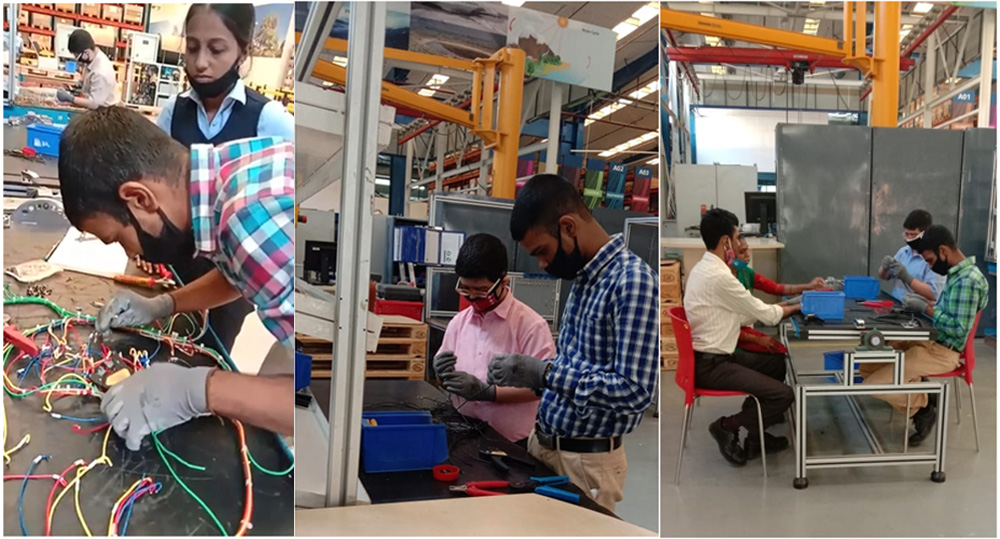 "It is indeed a great sign of relief to see my daughter have a well guided career opportunity. Staffs and care takers at  Swabodhini school for Special Children had been a blessing straight into our life, showing care and love to children and working towards their betterment of my child. I should say, they are an extended family showering care. Their recent step in getting my child an opportunity to work and earn has certainly helped in boosting her confidence and a reliever of stress from our minds. Thank you so much."
– Mr Nithyanandan F/O Ms Sree Shakthi
"My son T. Andrew (ADHD) was trained in SWABODHINI and is now placed in Grundfos company as Trainee. He just received his first salary which brought so much joy in us. We as parents are thankful to Dr. Radha mam, the Swabodini staff and the management of Grundfos for making this possible."
– M.Terence Aldrin F/O T. Andrew