Oct 2021 Newsletter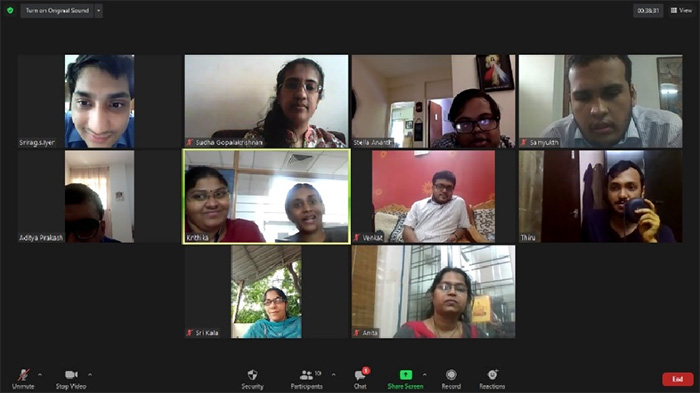 Dear all,
"Greetings from Swabodhini"
It is quite long since we connected through Newsletter, since Covid Pandemic has put all operations out of gear including connecting with people on such platforms. But in reality, last one year has been not so uneventful for Swabodhini, especially after the commencement of online classes for all the students. Our staff engaged almost all the students on roll, through online coaching. It was heartening to see the parents also getting involved with enthusiasm to assist their wards to take classes at home.
From 6th September2021, we commenced regular classes for vocational students of 18+ age and the response from parents and students is found to be quite encouraging. The regular classes are conducted strictly following the SOP prescribed by Government and after obtaining parent's consent. We also continue conducting "online classes" for students in Pre-Primary, Primary and Pre-vocational courses.
Our Assisted Employment program in Grundfos, a first of its kind, "place and train" model, has enhanced the approach to inclusivity in the workplace thus facilitating, improved progress in our students and also in being contributive members of their family.
We have initiated Volunteer Engagement programs to empower our students with leadership development, social interactions, self-confidence and self-worth. We are lucky to have volunteer participants from Grundfos, Barclays and PayPal. Every volunteer has expressed their satisfaction, in this meaningful and positive experience, in interacting with our students.
I am glad to inform that Mrs. Malavika Harish Lakshman has joined our Trust Board as a Trustee and her induction with her corporate background, is bound to add lots of value to the Board's functioning.
Mrs. Hemamala Balasubramanian has recently taken over as DIRECTOR, school operations. She comes with years of teaching and non-teaching governing experience in both regular schools and Special schools. We welcome her to the Swabodhini family.
Our association with Guru Nanak Educational Society continues in conducting classes in their campus at Velachery and we are grateful to them for their continued support.
Here is a round of our activities held during   June – September 2021.
Wishing you and your family in advance for the Pooja and Diwali celebrations.
Radha Ganesan
Founder / Managing Trustee
Swabodhini School and Vocational Center
Employability Training – Volunteer program in association with Grundfos
Swabodhini Internship Program aims to train students in Autism Spectrum Disorder (ASD) and with similar disabilities in social etiquettes, safety measures, functional and numerical skills, communication and personal grooming needs, with a goal to prepare them for future employability opportunities.
One of the core criteria for autism is defined as persistent difficulty with social communication and social interaction. The students have significant difficulty with the social aspects of language, such as knowing how to initiate and maintain a conversation, and understanding meaning from other people's body language. They also have difficulty engaging in 'small talk' and in 'befriending' people.
This Volunteer program, an online program through Zoom, aims to provide a platform for the students to interact with the volunteers from Grundfos and acquire relevant social and communication skills. Volunteers from Grundfos engage with a few of our students for 30 – 45 mins per session on a weekly basis. Facilitators from Swabodhini are also available to help the students and volunteers to connect and participate in the conversation. Given below are some snippets from the first session where the topics covered included: Self-Introduction, hobbies, favourite movie, actor and song.
Life skills training for Vocational Students
We commenced in-person classes for our vocational students in September this year and the focus has been on equipping them with life-skills. The course covers 18 functional areas including – road skills, functional math, shopping, soft skills, different types of touches, personal safety, basic housekeeping (making their bed, laundry, dusting etc;), leisure activities/ hobbies, mobility and travel etc;
Grundfos Team building activities
Recently, our students Joshua, Andrew, Venkatesh and Sri Shakti who are interns in Grundfos India Pvt. Ltd participated in some fun team building activities like singing, lemon and spoon race etc; and even won some prizes!!
Assisted Employment Program @ Grundfos
In July, post the 2nd COVID wave, our students reported back for duty at Grundfos India Pvt. Ltd. One of them, Mr. Joshua was chosen to work in the Panel Section (where he fixes the panel fan, tightens screws etc;) and he is currently being trained by Mr. C.R. Balaji who is an ex-student of Swabodhini and has been employed with Grundfos for 10+ years!! It is a moment of great pride and happiness for us that one of our students is now well-equipped enough to not only support himself and his family but he is also paying it forward by training other students who are eager to make a mark in the corporate field….Kudos to Balaji and Joshua!!
In July, teachers from Swabodhini attended a training program on sustainable greener environment and how we can plant more trees in and around our school campus to stay connected to nature. Swabodhini hopes to engage with Intach team in the near future to increase our green footprint.
On 6th Aug 2021, The Indian National Trust for Art and Cultural Heritage (INTACH) organized a story telling workshop "Off we go to Chennai" for our primary and pre-primary students. The session led by two acclaimed publishers and authors, Ms. Arthy Muthanna Singh and Ms. Mamta Nainy, introduced the culture and history of Chennai to the students.
Product Stall – Serene Pushkar, Sholinganallur
Our students organized a small stall and sale for Diwali and Navratri gift hampers hand crafted by them in Serene Pushkar. The students were encouraged by the response from the residents and had a great learning experience at managing a small stall, interacting with the residents and in handling money.
Mrs. Malavika Harish Lakshman – New Trustee on board
In Aug 20
21, Mrs. Malavika Harish Lakshman joined Swabodhini Charitable Trust as a Board Member – Trustee. Mrs. Malavika holds a Master's Degree in Business Administration and Marketing and is currently serving as a director of The India Company Private Ltd., a 100-year-old company that manufactures micro nutrients based in Chennai. She leads the company in its administrative, marketing and financial domains.
Mrs. Malavika has also worked earlier with The Hindu and The Business Line as a sub-editor and also contributed articles. She has also collaborated with Orient Black Swan Publishers, a leading publisher of educational books, in reviewing, editing text books and improving the quality of their publications.
Mrs. Malavika is also actively involved with INTACH, a nationwide non-profit movement to protect and conserve India's vast natural and cultural heritage. As a part of YOUNG INTACH initiatives, she has set up heritage clubs in many private schools and colleges across the city. She enjoys working with children and has also organized multiple workshops, and storytelling events for many private and state-run schools in Chennai. Her passion and her vast experience with children and education will be of great value to Swabodhini.
Ms. Hemamala Balasubramanian – Our new Director
Mrs. Hemamala is an educationist with a rich and diverse experience of working with several institutions. She has over two decades of experience in the education sector and has played various roles from teacher to Principal in regular as well as special schools. She earned her B. Ed in special education and holds 4 post graduate degrees including M.Sc, M.Ed, MBA in education management and M.Phil.
She has always been creative in approaching her assignments and has been at the helm of many 'firsts' at the educational institutions where she worked, including instituting inclusion in learning at schools.
She is an eloquent speaker and cordially promotes quality teaching with independence. Her induction is bound to add value and strength to Swabodhini's management team.
Ms. Kamali, our new job coach came onboard this academic year. She is passionate about working with special needs children and adults and has completed her B.Ed Special Education and BA English.
She is currently helping our students who are working as interns in Grundfos.
Vinayaka Chaturthi Celebrations
On Sep 10, Vinayaka Chaturthi was celebrated in school with much fan fare and devotion as is the practice every year. The vocational students helped in making Modaks and Sundal. It was good to have the students and staff in school participating in the traditional pooja and aarti, singing songs and dance about lord Ganesha.
Independence Day Celebrations
We celebrated Independence Day virtually this year with the students transforming into freedom fighters and displaying their patriotism. Students also participated in various competitions like drawing and colouring, craft works, singing songs, speech and presentation about Independence Day.