Jan 2022 Newsletter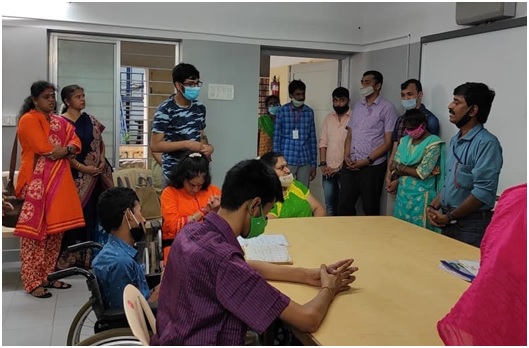 Greetings from Swabodhini!!
I would like to start off by wishing each and every one of you, a happy and prosperous 2022. It had been a trying 2021 and we all deserve a pat on the back for making it through with Spirit and Strength.
To usher in the New Year with joy and gratitude, we hosted Christmas and New Year celebrations on campus where our students, staff and volunteers enjoyed an afternoon full of fun events and laughter.
We also managed to rack up quite a few prizes and accolades at the World Disability Day celebrations hosted by DDRO (Chennai) across various events and at the Sports Day conducted by Sangamitra Foundation where our student participated with athletic fervour and sportsmanship.
As part of our Learning and Development initiatives for our Staff, we conducted several workshops ranging across several topics that would ensure that our staff remain agile and up-to-date.
Compiling this edition, the first of 2022, made us look back and ruminate over all our achievements of last year, both big and small, and appreciate the perseverance of our students and staff alike. I can only hope that our flame will burn even brighter this year and that we achieve even more milestones.
I hope you enjoy reading the newsletter as much as we enjoyed putting it together for you!!
Ms. Hemamala Balasubramanian
Director – Swabodhini School and Vocational Center
Students from other institutions attend our Retail Vocational Course
As a part of our ongoing endeavour to reach out to a larger population of students and equip them with real-world skills, we have partnered with Vidya Sagar and 4 of their students have started attending our 12-month Retail Vocational Skills program at the Guru Nanak School campus. The topics covered include product identification, stacking, packing, billing etc; The students are excited to be a part of this course and their parents have been extremely cooperative in ensuring a seamless and rewarding experience for their wards and the teaching staff as well!!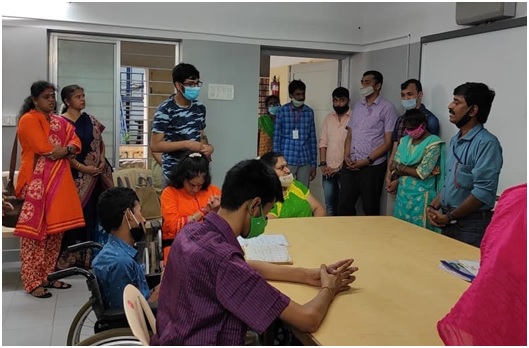 2 of our students have donned the role of interns for a period of 6 months and have started executing their responsibilities within Swabodhini!! Mr. Aditya Prakash is doing his Physical Training Internship under the guidance of Mr. Dhaya, Physical Trainer and Ms. Sunita is assisting our Special Educators in the preparation of Learning Material for Special Children.
Corporate interaction sessions
The Corporate interaction program, an online program through Zoom, aims to provide a platform for the students of our Vocational Courses to interact with volunteers from various corporates and acquire relevant social and communication skills. The volunteers engage with a few of our students for 30 – 45 mins per session on a regular basis. Facilitators from Swabodhini are also available to help the students and volunteers to connect and participate in the conversation.
Given below is a snippet from the session with employees from Grundfos Pumps India Ltdwhere the topics covered included: Self-Introduction, hobbies etc; They have also invited our students to visit them at their workplace and get a feel of a real-time office environment!!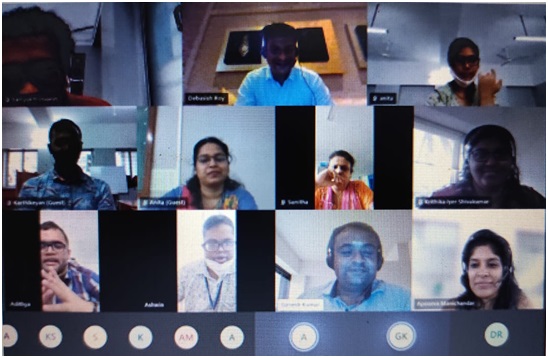 Given below is a snippet from the interaction with employees from Barclays where the topics covered included: Self introduction, shopping skills etc; This session was very well-received and 6 students from our school attended the same.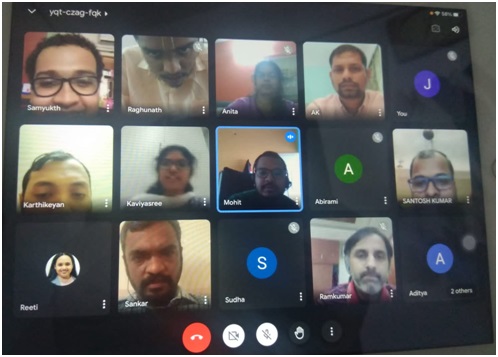 As a part of our ongoing endeavour to upgrade skills and knowledge of our staff, we arrange for interactive workshops that cover various topics related to Special Education, Occupational Therapy, Art Therapy, Movement etc; Some recent workshops conducted include:
Occupational Therapy – by Mr. Vanchinathan
Strategies for Writing – by Mrs. Radha Ganesan
Voice Training and Usage – by Mrs. Malaiyarasi
Behavioral Therapy – by Mrs. Charumathi
Sensory Needs and Sensory Processing Disorder (SPD) – by Mrs. Prianandini
Movement Therapy – by Ms. Anusha
Mr. GanesheDhayanath (Physical FitnessTrainer) 
In Nov 2021, Mr. Dhaya joined us as a full-time Physical trainer and Instructor. He has completed his Masters in Physical Education and has in-depth experience in training special children. He is a National Level Table Tennis umpire and an avid sportsman who has competed in many Table Tennis, Hockey and Archery tournaments.
Mrs. Chandralekha (Special Educator)
Mrs. Chandralekha has joined us as a full-time Special Educator and is currently handling the Primary Section in our Guru Nanak School Campus. She has completed her B.Ed in Special Education.
We @ Swabodhini stress upon the holistic development of children and towards achieving this, we include Art Therapy, Yoga, Movement and Fitness, Occupational Therapy and Speech Therapy as a part of the day-to-day schedule for our students. Glimpses from a few of these sessions are given below:
Students from Swabodhini school and Vocational Center in Guru Nanak School, participated in a Cancer Awareness Session conducted by Adyar Cancer Institute. Our students gained valuable information based on their interaction with the volunteers anchoring the Awareness program and by going through the presentation and rolling display in the mobile van.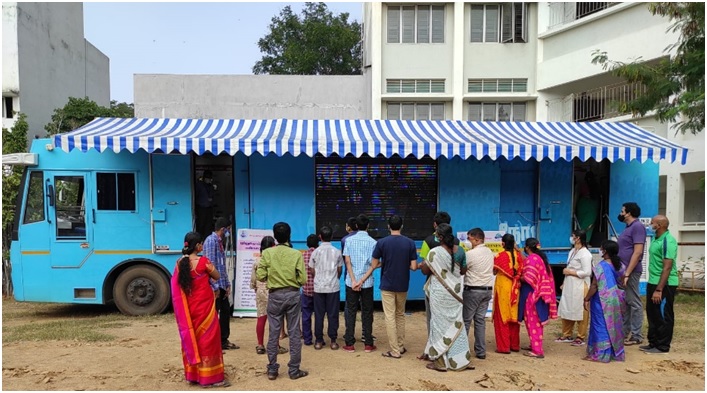 TheDistrict Education Officer visited our classrooms in Guru Nanak School campus and interacted with all the students there. The non-verbal students also communicated their names using a spell chart and the DO expressed his happiness about the inclusive education model that Swabodhini has implemented there.
Christmas and New Year Celebrations
The Christmas and New Year celebrations at school this year were very lively. All the students participated with zest in various events and dance programs making it a very heart warming and energetic afternoon. A few staff from Grundfos Pumps India Ltd. (Ms. Apoorva, Ms. Krithika and others), our ex-students now employed with Grundfos (Mr. Balaji and others)and our students now currently working with them under the assisted employment program also visited and celebrated along with us!! Their visit was a complete surprise to all and to top that they also got some sandwiches, puffs and cake for everyone!!
Birthday Celebrations @ Swabodhini
Every month we celebrate the birthdays of our staff and students that fall in that month. Given below are some pictures from celebrations in our Thiruvanmiyur and Guru Nanak School Campuses!!
Events related to World Disability Day
Our students participated in the World Disability Day celebrations conducted by the DDRO (Chennai District) and won the following prizes:
Karthikeyan – 1st prize – Singing
Nagamanjari – 1st prize – Speech
Samyukth – 2nd prize- Singing
Krishna Aradhana-2nd prize-Dance
Seen in the pic are our Director – Mrs. Hemamala and our Finance Head – Mrs. Amirthavalli receiving the awards from Ms. Vijayarani, IAS.
Our students also participated in competitions held by KRM Educational Trust and won the following prizes:
Karthikeyan- 2nd prize – Singing
Jabez- 3rd prize in Drawing
Kavya Sivakumar- Consolation prize- Thirukkural recitation
Ali AsgarLohani- Consolation prize – Fancy Dress
At a recent Sports Day conducted by Sangamitra Foundation, one of our students Mr. Srinath won the 1stprize in 100m, 2nd prize in the Relay race and 2nd prize in Throwball!!