June – Oct Newsletter 2020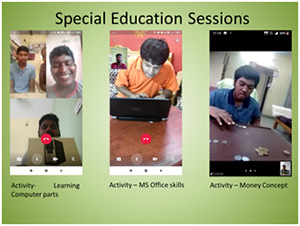 Hope this newsletter finds you all in good health and cheer.
We at Swabodhini are finally managing to come to terms with the new normal after the pandemic turned our lives topsy turvy. Many of our parents and staff were finding it difficult to fend for their families in these pressing times.  The students were getting restless at home as they were confined indoors.
With the financial strain that this pandemic has placed on companies and individuals, our access to funding has also been impacted considerably. I would like to take a moment to thank our sponsors without whose help we could not have come this far. We look forward to your continued support to ensure seamless operations.
In the midst of all the challenges we also have much to cheer for, as this year also marks the completion of 10 yrs of work experience for 2 of our students who were placed with Grundfos Pumps India Pvt. Ltd. One of our Vocational Course students has gained admission in to the Visual Communication course in Guru Nanak College.
After much deliberation and planning we commenced online classes for all the children in June. The results are so heart-warming and the students, parents and staff have been more than co-operative.
Things have already started looking brighter with the festive season. Wishing you all a Happy Navratri and a great Diwali (in advance).
Stay home and stay safe.
Radha Ganesan
Founder / Managing Trustee
Swabodhini School and Vocational Center
Online Classes commenced in June
After much deliberation and planning we commenced online classes for all the children in June.There were many factors in support of commencement-
The students had to be engaged in a meaningful manner,
The ground covered in the previous academic year should not be lost owing to lack of practice,
The parents can also be involved in their ward's progress in an engaging manner.
Some factors against commencement of online classes-
Will the students be able to concentrate, look into the camera and understand remote instructions?
Network Connectivity issues
How long can the school support operations without parent donations and reduced sponsorship?
After considering all the pros and cons, the school decided to commence online classes.
We would like to congratulate 2 of our students (Mr. C.R. Balaji and Mr. Hariharan) who recently completed their 10th work anniversary in Grundfos Pumps India Pvt. Ltd. Another student of Swabodhini, Mr. Yuvraj started working with Grundfos in 2016. They work in various capacities within the company's manufacturing plant situated in Thoraipakkam, Chennai.
Today not only are they on the same footing as their peers, they are also active contributing members to their families. World over, the young adult autism population faces significant challenges to employment. In a world where their competency is questioned on a regular basis and society is still taking baby steps at appreciating the value that these people bring to the table, this success story comes as a breath of fresh air. Our heartfelt thanks to the staff and Management of Grundfos Pumps India Pvt. Ltd. for having given them the opportunity and going the extra mile in ensuring that they get a platform to prove themselves. Sharing a snapshot from Grundfos India's Facebook page:
Click here to view the video that Grundfos has uploaded to their Facebook Page.
We would like to thank Mr. Nikhil Nair of Eyeronik Productions for his effort in shooting and editing this video!!
INTACH Club workshop for school teachers and principals
On Sep 12,2020, 2 of our School teachers attended the workshop conducted by Intach (Indian National Trust for Art and Cultural heritage). Ms. Vimala Srinivasan, Head of Education also attended a workshop for School Principals on Sep 11, 2020. The aim of the workshop was to equip the staff that run the Heritage Clubs in schools, sensitize them oninformation that is available online, motivate teachers to play an effective role in sensitising children about heritage, events conducted by various Intach clubs- quizzes, Storytelling sessions etc; There were participants from over 11 schools in the workshop.
Managing Behaviours Through Behaviour Therapy
Article by Ms. Usha Venkatesan
Ms. Usha has over 30 years of experience in assessing, planning IEP and rendering educational and behavioral intervention. At Swabodhini she conducts workshops for staff, parental counselling, cognitive and vocational assessments for children, strategies for accommodating the children in school and at home
Behavior therapy had been introduced at Swabodhinito encourage positive and acceptable behaviors and to reduce the unacceptable/challenging behaviors. It is an individualized and comprehensive approach that parents and teachers use to teach and encourage students to behave in appropriate ways. The therapy is implemented by everyone involved with a child on a day-to-day basis and Interventions happen in the natural environment where the behavior occurs.
Initial referral is done after systematic observation by the teachers and parents, the student's behaviors which interfere with the learning, social acceptance; healthy life style, safety and security of themselves and others are identified and analyzed systematically by ABC model.
Considering behavior as an ABC sandwich:
Antecedents – What are 'triggers' for the behavior? Finding out the cause of the behavior.
Where did the behavior occur?
What happened just before?
What was being asked of the young person?
Who was there?
 Behavior –The way your child responds to the trigger. Finding out –
What was the behavior, Where, when and with whom?
What did the young person do?
What was the outcome?
Consequences or 'rewards' – This is what your child gets out of behaving this way.
How did the behavior stop, did any one intervene, was he allowed to do what he wanted? For example, they might be allowed to go on with a favorite activity, or to leave a stressful situation.
Systematic observation of the behavior is done to find out the trigger, how frequently the behavior happens, when, where, with whom, how frequent does it occur and how does it stop.Systematic behavior management is planned on individual basis and implemented.Sensory issues/over loads causing the behavior are followed up with sensory integration training.Parents are counseled to follow up the similar behavior management at home.
Behavioral Interventions deal with student's unacceptable/challenging behavior by changing either the behavior's triggers or the 'rewards' the student gets from the behavior.  During Behavioral Interventionsstudents are taught the alternative, more appropriate behavior to replace the unacceptable/challenging behavior. Students receive constant and consistent positive reinforcement for the positive and acceptable behaviors.
They are given behavior specific feedback, ample verbal praise and reinforcement immediately and in a way that is meaningful to the particular person. Strategies for dealing with increased levels of agitation and anxiety in order to reduce meltdowns are also taught.
We do advocate and practice  the following proactive strategies in order to facilitate child's coping and adaptation.
Establishing Structure, Routine and Predictability – Young people with autism tend to lack prediction skills and do not cope well with change. Establishing routines that are fixed can be very helpful in aiding the young person to understand what's happening now and what will happen later. This can be done using a schedule of what will happen during the day and can be ticked off as it is achieved.
Make directions clear, short, and concrete
Setting a Classroom behavior plan for all students to promote expected behaviors.
Developing an individualized Positive Behavior Support Plan for each student
Set clear Expectations, be Consistent, and Follow Through
Acknowledge students for complying with your requests
Clear specific instructions on what is expected and allow the student to earn privileges for complying with the expectations
Allowing the student bring a transitional object from one activity to the next.
Using visual schedules/time tables
Distract and redirect challenging behavior instead of saying "stop" or "no."
Dealing with sensory overloads effectively for e.g. If the child seems over stimulated from sensory input, such as in a large crowd, bring him/her to a quieter place to de-stress.
Teach the students to practice flexibility and self-monitoring
Providing organization and support transitions.
Communicating expectations, use daily and short-term schedules, warn of changes to routines or personnel, prepare the student for unexpected events such as fire drills, field trips or field day, substitutes, etc.
Offer choices and provide the student some control – within reason
Considering sensory needs and interventions.
Respecting the student's personal space – and teaching him/her to recognize and respect the personal space of others.
Navratri is usually celebrated with great fervor in Swabodhini. Given that school is yet to reopen, we are all missing the fun of getting together over golu, sundal and cultural performances. Just thought we could share some snippets of Navratri@ Swabodhini from the previous years. Wishing you all a wonderful Navratri with your near and dear ones!!