February – April 2022 Newsletter
Foreword
The quarter gone by was very eventful with the inauguration of the Skill Unit and our much-awaited Annual Day. These were like a breath of fresh air that rejuvenated us after the lull of COVID-19 over the last two years. Towards bringing in a collaborative and a multi-disciplinary approach to Progress Review Report (PRR), all stakeholders (parents, teaching staff, coordinators) were included in the review process conducted in April.
COVID-19 (Omicron) did stick its neck out once again but the undeterred team of ours helped us sail through the rough seas without much ado. We did have to redesign our delivery mechanisms and rise up to the challenge. I must admit that the entire team rose up to the occasion and ensured minimum disruption to the schedule and learning. All this would not have been possible without the continued rock-solid support of our donors, well-wishers and the larger fraternity of Swabodhini.
Now that we have closed for the Summer Holidays our staff and students are taking a much-needed break. Rest assured we will be back with a bang in June. Till then we leave you with the highlights in school from Feb to Apr 2022.
Looking forward to the next academic year…..onwards and upwards as always!!
Ms. Hemamala Balasubramanian
Director – Swabodhini School and Vocational Center
The Skill Unit at Swabodhini was inaugurated by Mr. Ranganath N Krishna (Independent Director, Member of CII National Committees on Skill Development). Mr. Faheem Sait (Tamil Nadu Head for DELC – Differently Abled Employment and Livelihood Centre) also graced the occasion. Mr. Vijay from Lotus Foundation (one of our partner organizations) and few of their students were also present along with staff and students from Swabodhini.
Children and adults on the spectrum perform remarkably well in jobs that require repetition and predictability. Specific processes in the Manufacturing (Mechanical assembly sector) require a number of tasks to be performed with accuracy and skill on a repetitive basis. Keeping this in mind, the Skill Unit is intended to train students (across NGOs) for job readiness in the Manufacturing (Mechanical Assembly) and Packaging sectors.
Swabodhini's much awaited 33rd Annual Day Celebrations were held on 26th March 2022 at Kumararaja Muthiah Auditorium, MRC Nagar, Chennai. The pandemic induced break increased the excitement and expectations among the students, parents and donors alike. The evening was abuzz with curious faces, eagerly waiting for the unfolding of the events.
The programme started with the prayer and was followed by an audio-visual presentation of the annual report. This was immediately followed by the signature performance of the Swabodhini fraternity namely the Sri Ranganatha Song.  What followed thereafter was a kaleidoscope of dance performances drawn from all corners of the country towards depicting the rich cultural diversity and offerings of our proud nation. It included Bihu Dance, Dandiya, Bhangra, Parampariyam Dance forms of Tamilnadu to name a few.
Our Chief Guest of the evening Mr. Sunil Kumar, Centre Head, World Bank Group, Chennai addressed the august gathering. During his speech, he narrated a few real life success stories of Challenged individuals. The evening drew to an end with acknowledging the performers, volunteers, and our ever dedicated long serving staff members. The event served as a symbol of collaboration, synchronization and collective effort true to the maxim of "Impossible is Nothing".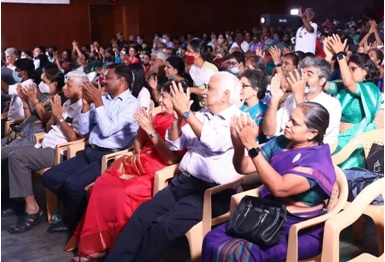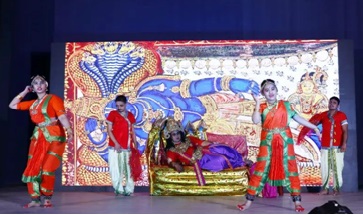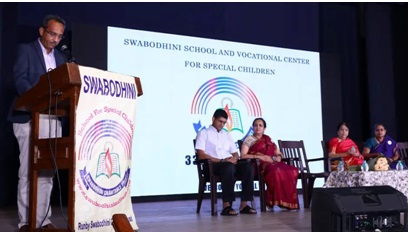 Yearend student assessments were conducted in April 2022. Each student was assessed individually on all aspects of the curriculum.
From April 18- 22 before school was closed for Summer Vacations, we conducted the Parents teachers Meeting. These meetings are held at the end of every term and our first in-person meeting since 2019 was held in the last couple of weeks in April 2022!! Providing regular feedback to parents about their wards is an important aspect of maximizing student learning and performance. A detailed Performance Review Report (PRR) is prepared for each student and this then serves as the basis for the discussions with the parents.
World Autism Day On 2nd April 2022, we participated in the World Autism Day Event anchored by Marina Harley Owners group (HOG) and CanBridge Academy. The idea was to create awareness among the people regarding compassion for and inclusion of people with special needs into our society so that they can lead a dignified and rewarding life. Over 30 Harley riders rode their bikes from the Harley Davidson showroom in Nungambakkam to the CanBridge Academy in Thiruvanmiyur. They then proceeded to interact with students from CanBridge Academy, Lotus Foundation and Swabodhini. The event was a big celebration that brought joy and cheer to everyone who was a part of it. The students, bikers and staff danced, laughed, sang and played together and just could not get enough of it!!
As a part of Autism Awareness month we treated some of the girls in school to a grooming and makeover session. A few students from The Lotus Foundation were also a part of this session. At the end of it they were all so happy, looked so pretty and to top it off they carried it with style and panache!!
In April, a few staff members from AGS Health (one of our Corporate donors) paid us a visit at our Thiruvanmiyur Center. They were shown around the facility and also had a chance to interact with the students and staff. We discussed with them on how we can take this partnership forward and also on the future possibility of their employees being engaged as volunteers with Swabodhini.
Our ability to positively impact the lives of individuals with Autism has only been possible because of the sustained support of such benevolent donors. On behalf of the staff, students and Trust Board, we extend our thanks and gratitude to them for their support for the cause of Autism and Special Needs Education.
Visit by Dr. Rajavalli and friends
Dr. Rajavalli, a long time well-wisher of Swabodhini visited school on Feb 14th along with a few of her friends. They interacted with the students and distributed Yoga mats and Sweets to them. We would like to thank them for their consistent support over the years!!
An organization called "The Open House" conducted a puppet show in our Guru Nanak School Center. Five members from the team – Deepak, Isai, Karthik, Gayatri and Gopi were present and they put on a great show centred around Waste segregation and environment awareness. It was attended by our students and Primary school children from Guru Nanak School. The children thoroughly enjoyed the show and it was a welcome change from the normal routine!!
Our students are way more confident and happy these days owing to the amazing interactions they have with other school and college students. On March 15th, students from the Social Work Department at Guru Nanak College danced for/ with our students in the Guru Nanak Matriculation School campus!!
This is a brilliant example of true inclusion.
Employee Engagement Activities
The last week at school before we close for summer holidays is usually choc-a-bloc with activities like IEP development, curriculum finalization and team building activities. This year owing to an interim spike in COVID cases in the city, we called in for lunch to be catered at school instead of the regular outing to a restaurant. The staff relished the lunch spread over some awesome conversations which was then followed by some group games like Tambola etc;.
The Support staff and Teaching Staff took part in Yoga workshops anchored by our Yoga Instructor Mr. Jagadeesan. Given below is a snapshot from the workshop for Support Staff which was held on 26th April (which we celebrated as Helpers Day this year).