August 2022 Newsletter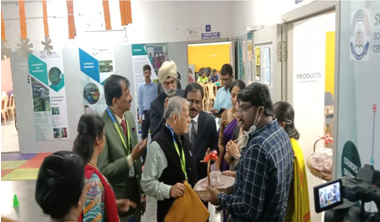 Foreword
The month of August went by with a flurry of activities. NAAC Peer Team visit, visits by donor companies, Sports Day and celebrations of Independence Day and festivals. These celebrations have a positive impact on our students, fostering cultural appreciation and teaching social awareness beyond textbooks.
Swabodhini has been receiving positivity with the celebrations of festivals at school. Children express a refreshing change with their vibrant smiles, complemented by their costumes, when enacting the skits for the festivals.
Enhancing academic curriculum and vocational training skills focuses on training avenues for livelihood, so that every student will be a productive member of the family and community.
We are extremely thankful to all our donors, for their continued support in making Swabodhini what it is today.
Ms. Radha Ganesan
Founder/Managing Trustee
Swabodhini School and Vocational Center for Special Children
Thiruvanmiyur
NAAC officials visited our GNS center along with Mr. Manjit Singh Nayar (General Secretary and Correspondent, Guru Nanak College) and Mr. M.G. Ragunathan (Principal, Guru Nanak College). A fruitful discussion on Swabodhini's vision, journey and our consistent endeavors to improve the quality of special education was discussed.
Field visit-Spencer's Experiential Learning
As part of our vocational retail program, our students visited Spencer Super market to experience real life situations. Students independently purchased the intended products and successfully billed the items and handled money with confidence. Such experiential learning methodologies act as a supplement to their learning at academic level and prepare them to live their life independently.
On 6th august, Ms. Sowmiya (Head Therapist) conducted a workshop for staffs on the topic "Functional communication in special needs". All the staffs from both the centre attended the session and benefitted.
Independence Day Celebration
This Independence Day was such an event. Students came all well dressed in festive clothing and actively participated in many cultural events.
It is always heart-warming to have our corporate sponsors visit us and engage with our students. Students learn from such experiences and carry it with them for a long period
A very energetic team from AGS, Cheryl Cruver (Chief Revenue Officer, AGS Health), Phillip Park (Chief Strategy Officer, AGS Health) Aniruddha Sen ( Senior Vice President, Solutions & Transitions, AGS Health),Prasad PK( General Counsel , VP – Legal and Corporate Affairs, AGS Health), Leigh Poland( Vice President, Coding Service Line, AGS Health), Neha Gupta (Director – CSR, D&I, Branding and Communication), Vinod Kumar Srinivasan (Senior Manager – Branding and Communication), Sakthi Prasanna S (Senior Manager, CSR and D&I) visited our GNS centre
They joined our students in various activities like painting diyas, making paper bags and jewellery and demonstrated their skill and shared their experiences.
Krishna Jayanthi Celebration
Krishna Jayanthi was celebrated with much pomp and glory. Students enchanted everyone dressed up as Krishna & Radha and they also engaged in cultural activities such as singing, dancing and theatre.
It was on 2017, since we have celebrated our sports day.On 27th August, 2022 we celebrated our Annual Sports day at Guru Nanak School.The day was graced by Mr. Ganesh (Autonomous production unit Manager, Grundfos), Mr. Sakthi (Senior Manager CSR, AGS Health), Mr. Selvarajan (Principal, Guru Nanak School), Ms. Daisy Devakumar, (Education Officer), Ms. Mandeep Kaur( Vice Principal). We were also extremely glad to welcome our parent community to the event and bond as a community.
All students participated with great enthusiasm in various events such as running, short put, partner games and group games. Students rejoiced their triumph with certificates, medals and prizes and shared their joy with parents.
We are grateful to the Management, students of Guru Nanak School for supporting us in making the event a success. Student volunteers from Guru Nanak School partnered with our students during group games and encouraged the respective teams to excel. We are also thankful to the volunteers of NSS, Guru Nanak College for their immense help during and before the sports day celebrations.
Vinayagar Chathurthi Celebration
With Vinayagar Chathurthi to wind up this month, August was truly a month of celebrations for Swabodhini. It was a joy to watch students and out staff all decked up in ethnic wear, offering prayers for yet another hopeful year of achievements and happiness.
Birthdays are another occasion for us to celebrate life. Sharing some glimpses