September 2022 Newsletter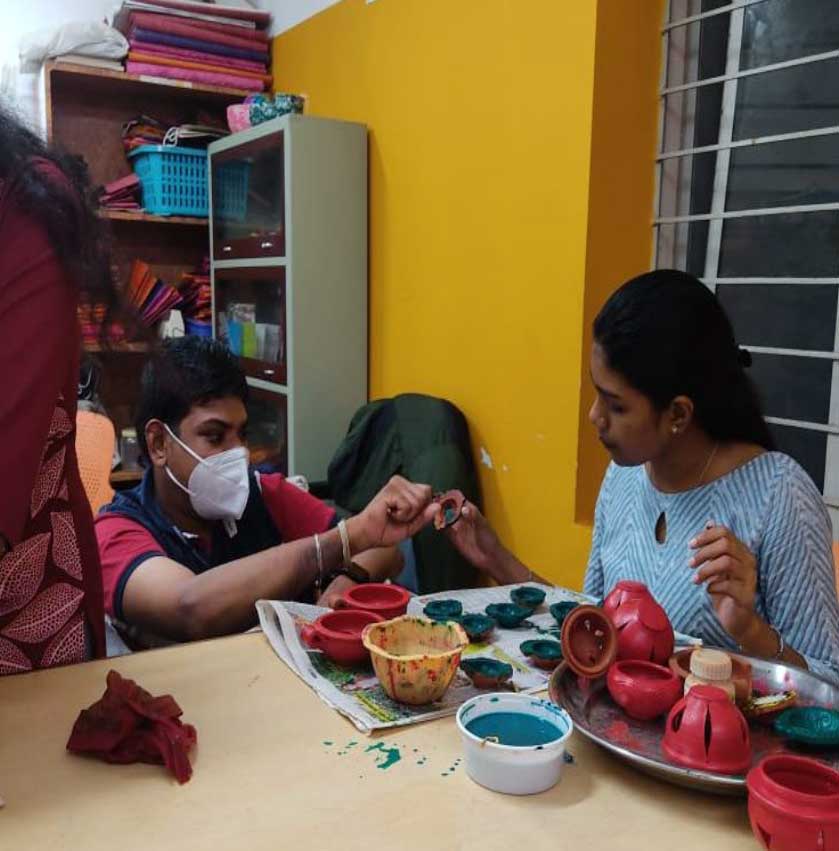 Foreword
Greetings from SWABODHINI!
We seem to have left the Covid days well behind as almost all activities including participation in various extra-curricular events conducted by other organizations have resumed. Our students recently participated in a Carrom Tournament and came out with flying colors!! Just before the school closed for Pooja Holidays, we conducted assessments for our students to gauge their progress. This was followed up with individual PRR (Progress Review Report) sessions with the parents, teaching staff and management in attendance. It was heartwarming to note the progress of our students
on various fronts and we look forward to implementing the feedback received from the parents on areas of improvement!!
Interns from various institutions have started working with us on several projects and we are learning from the fresh perspectives they bring to the table. With the festive season in progress the school is abounding in positive energy and we look forward to riding this wave well into the future.
We would like to thank our sponsors, well-wishers and parents for their continued support. It is your positivity and support that keeps us going every single day!!
Wishing you all a nice day.
Warm regards,
Regards,
Ms. RadhaGanesan
Founder and Managing Trustee
Teacher's day Celebration
Both the centres celebrated teacher's day with pomp and pageant .It was a day to celebrate and cherish our teachers who work tirelessly. Our splendid support staff planned the whole event by conducting various games for staffs and gifted them to make the day more memorable.
Teacher's Day celebration at Guru Nanak School
Our Founder/ Managing Trustee Ms. Radha Ganesan graced the occasion as Chief Guest at Guru Nanak School on Teachers day Celebration. She also presented to the students the prizes that they had won during sports day.
Students Assessment and PRR Meeting
Every term we conduct assessments for students to gauge their progress.
PRR meeting is also held to review the performance of the students. Parent teacher meeting supplement the information conveyed by a detailed PRR (Progress Review Report) by focusing on students' performance in individual subjects individual subjects, extra-curricular activities and
general competencies.
Parents Feedback on PRR Meeting
"Nice effort on the part of team Swabodhini, Velachery centre. Thanks to all the team members for their concerted action plan to improve the students. We wish you all success in your endeavors"
Parent, Srinivasa Ranga
Vocational Student
"Thanks indeed for such a well organized, scheduled, planned parents meeting. One of the best meets we have attended so far. Teachers have made keen in depth observations and shared positively all their opinions focusing on how to overcome issues and planning what next. We immensely thank Managing Director for exemplary patience hearing parent's part teacher's part sharing their views and guidance for wards betterment. Thanks to the centre in charge, all the teachers and helper team for understanding the child's difficulty ignoring if hurt and willingness to support us. We were blessed and touched by the extended support.
We pray to God to strengthen you all and guide you to achieve all goals set for all kids"
Parent, Rashmika
Vocational Student
Thank you all. We were really stunned when we entered the board room. It was really great to see all the teachers together and the feedback we received from all of them. Thanks for all the effort you are putting to make our children live a normal life. Thanks to all the teachers
and supporting staff.
Parent, Divya Yazhini
Primary
"Overall she is good. Thanks to management as well as concerned teachers for taking care of her"
Parent, Yukthi Dhariwal
Pre-vocational
Barclays Virtual Interaction
On 20th September, our vocational students had an interaction session with volunteers from our corporate sponsor, Barclays. It was a virtual interactive session, with our vocational students, to improve their social and communication skills. Each and every student enthusiastically shared their experience on the topic "Places visited".
Sports develop positive sense of self and social competencies among the students. On 23rd September, our students participated and won prizes in the Carrom tournament "Tussle" conducted by Sports Development Authority of Tamil Nadu in the honour of 75th Independence Day at Mayor Radhakrishnan Hockey Stadium, Egmore. Our students, Ajay Krishna won 2nd prize, Joshua won 3rd prize and Thejaswini won 4th prize in the tournament.
The Golu festival of Navaratri celebrates the victory of good over evil, for nine auspicious nights, symbolizing the efforts of MahaDevi and other celestial beings to vanquish Mahishasura. On 23rd September, we celebrated "Golu" at both the centres. Students decked up in traditional outfits and
celebrated Navaratri.
As usual we celebrated birthday for Students and staff of this month. Here are some glimpses.
Interns from Guru Nanak College
Interns who are pursuing Masters in Social Work in Guru Nanak College are undergoing internship at our Centre in Guru Nanak School Campus.
They began by observing the students and interacted with them.They helped our students during yoga sessions, culinary and retail classes and in jewellery making, diya painting etc.,
They conducted activities to engage our students such as playing carrom board,peg board and passing ball game. These activities helps our students to acquire vital social skills, develop independence and improve self-confidence.
Intern from MIT University
Art therapy is a therapeutic work with children by using a form of communication that is more familiar or accessible than spoken language.Art materials offer children a more tangible expression and spontaneous medium to explore their needs, emotions, fantasies, desires, conflicts, and
difficulties.
Intern who is pursuing Masters of Fine Arts in Art Therapy at MIT University, Pune, commenced her intership as a volunteer and started assisting students with their art work by observing them.
It has been a month since she joined us and is helping our students explore their creative potential by setting goals based on individual strengths.