July 2022 Newsletter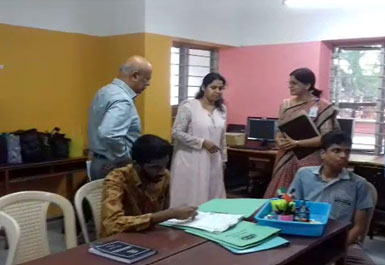 Foreword
After an eventful start in June post the summer recess, July saw momentum gathering pace with forays on multiple fronts. We had senior officials of Grundfos (our partner in progress) visiting our Guru Nanak School Centre to experience first-hand our vocational skilling efforts. Our Centre in GNS was visited by an external audit team of Guru Nanak College and came in for generous praise from the team.
The crowning glory of the month was the recognition received from the hands of Hon'ble Chief Minister of Tamilnadu, Thiru M.K. Stalin on 26th Jul 2022 at Guru Nanak College during the Golden Jubilee Celebrations of the College. The month gone by was memorable in more ways than one. We had the students going out on a field trip to Guindy National Park and an experiential learning trip (ride) on Chennai Metro Rail from Guindy to WIMCO Nagar and back. We express our most sincere gratitude to the officials of CMRL for going out of the way to make it happen. Such gestures give us great satisfaction, since societal awareness and acceptance is the key to mainstream integration.
With new students having joined our fold, we have got down to customising the curriculum design and delivery to suit individual needs. Our interaction with parents on a regular basis to ensure systematic follow up at home continues.
Regards,
Ms. Hemamala Balasubramanian,
Director
SWABODHINI  School& Vocational Centre for Special Children
Thiruvanmiyur
Guru Nanak Golden Jubilee Celebrations
On 26th Jul 2022, our staff and students had the privilege of participating in the Golden Jubilee Year celebrations of Guru Nanak College, Chennai. The Chief Guest for the event was our very own Chief Minister of Tamilnadu, Thiru. M.K. Stalin. The founder of our school Ms. Radha Ganesan and Director- Ms. Hemamala Balasubramanian received the award from the Chief Minister in the presence of other dignitaries like Thiru. T.M. Anbarasan (State Minister for Rural Industries, Cottage Industries, Small Industries, Slum clearance board) and Thiru. Peter Alphonse (Chairman of State Minorities Commission).
We would like to thank Mr. Manjit Singh Nayar (General Secretary and Correspondent, Guru Nanak College), Mr. Rajinder Singh Bhasin (President) the Board members and Principal (Mr. M.G. Ragunathan), Staff and Students of Guru Nanak College for their effort and goodwill towards making our association with them grow from strength to strength.
It was definitely a proud moment for all of us in school and will serve as a booster shot to continue doing our work with renewed zeal and vigor. We also wish the team at Guru Nanak College all the best to continue their stellar service to the cause of education.
On 21st Jul 2022, Ms. Neha, Mr. Shakti Prasanna, Mr. Vinod from AGS Health visited our centre in Guru Nanak School. They tried their hand at making chocolates, weaving and took part in some fitness drills as well!! Our students showcased their skills in Retail, Adobe Photoshop and Scanning to name a few.
It is always heart-warming to have our corporate sponsors over and we enjoy demonstrating to them in person the impact that their contributions have on the ground. We truly look forward to many more such in-person interactions with the AGS team.
On the 5th of July we had the privilege of hosting Mr. George Rajkumar (Country President, Grundfos), Ms.Krithika and Ms. Apoorva from Grundfos Pumps India Pvt. Ltd. They were very appreciative of our Vocational Skilling effort and spent quality time interacting with each and every student and staff member in our Guru Nanak School Centre and Thiruvanmiyur centres. The visit brought a smile on everyone's face and we look forward to having them over more often. It is a matter of great pride for us that our association with Grundfos Pumps India Pvt. Ltd. started in 2010 and 13 of our students have been placed with them full-time or are undergoing training under the Assisted Employment Training Initiative.
Stall in Guru Nanak School
On a trial basis we set up stalls selling goodies made by our Vocational Stream students at our centre in Guru Nanak School. The chocolates, biscuits, cupcakes and sandwiches are hot selling items and are normally sold out within minutes!!
External Audit team visit
On the 19th of July, 2022, as a precursor to the NAAC Peer team visit, a few members from an External Audit team inspected our Center in Guru Nanak School campus. They spent a good 30 mins questioning us on the challenges faced by our students, modalities of training and the outcome. The team was very appreciative of the effort put in by Swabodhini towards empowering the students to lead a fulfilling life.
Field trip – Guindy National Park
On Jul 22nd, 2022 our students went on a field trip to Children's Park, Guindy. They had a lot of fun observing the animals and birds. During lunch break they gobbled down the tasty treats that their parents had packed for them in their lunch boxes. Watching the children enjoying themselves all our staff were really happy too!! Overall it was a great fun filled day!!
At Swabodhini our aim is to ensure that our students are equipped with all skills necessary to lead a fulfilling life. Towards this end we took 26 students from the Vocational stream on a metro ride to expose them to a group travel experience in public transport and to help them improve their social interaction skills.
This initiative has been covered by leading newspapers in English and Tamil like The Hindu, Dinamalar, Dinakaran and DinaThanthi. We are thankful to the PRO and DSO CMRL who received our students and staff and ensured that all of them had a nice memorable ride!!
On 23rd July 2022, Ms.Malavika (one of our Trustees) conducted a workshop "English for Communication and Confidence". It was an interactive workshop with many well thought out group and individual activities and was very well received by our staff members.
Currently there are 2 interns (Ms. Malavika and Ms. Farheen) who are pursuing B.Ed Special Education from Tamil Nadu Open University. They have been preparing Individual Education Plans (IEPs), Teaching Learning Materials (TLMs) and are also assisting our Teaching Staff in the classrooms.
Interns from Guru Nanak College
Recently two students (Ms. Seethal and Ms. Vanathi) who are pursuing Masters in Social Work from Guru Nanak College (Autonomous) started their internship program at our center in Guru Nanak School. They will be assisting us twice a week for a period of three months with Case study preparation etc.. We wish them all the best for a fruitful internship!!
On 22nd Jul 2022, Ms. Srikala anchored a Circle time with students from the Vocational Stream in Guru Nanak School center. The topic of discussion was "Healthy Food"
Ms. Abinaya has completed her Masters in Social Work from Guru Nanak College (Autonomous) and B.Com (Corporate Secretaryship) from Dr. MGR Janaki College for Women. She was Treasurer of the Student Council while in College and is very vibrant with an affable nature. Abinaya has completed HR internships in Allsec Technologies and Jouve India Pvt. Ltd and is passionate about contributing to a social cause.
She has joined us as Associate Projects and Funding and will handle networking with Corporate CSR teams, proposal formulation, fund-raising etc; We wish her all the best!!