June 2019 Newsletter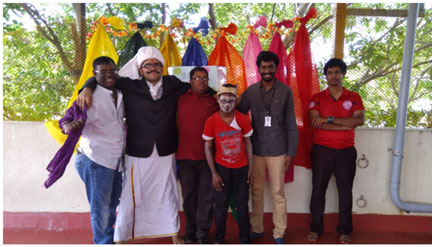 Dear All
Swabodhini is happy to welcome you to the beginning of the new academic year 2019-2020. It gives me great pleasure to share with you the newsletter for the month of June.
Each new academic year brings in new opportunities. We are happy to announce that we have a new Director, Mrs.Usha Pillai, who joined us on June 25th2019, to steer Swabodhini to greater heights in its growth and development and in continuing to provide quality service to students with autism.
Swabodhini School for Special Children has been privileged to commence the newly accredited courses for employability, with training in Computer and Admin. skills, Retail Skills and Culinary skills for young adults with autism and related challenges. This would not have been possible but for the partnership with Guru Nanak College (Autonomous) for the accreditation program of our structured curriculum. Admissions are open for the above courses to students with special needs in the community so please write to swabodhini@gmail.com for further details.
We have also initiated a new primary group of children in Guru Nanak Matriculation Higher Secondary School in the same campus, start of this new academic year.
The Management of Swabodhini is extremely thankful to Rotary Club of Madras East for donating a SML ISUZU School Bus, for the activities of Experiential Learning, for our students. Our sincere thanks to Mr.R.M.Narayanan, for initiating this project.
We look forward to making a positive difference in the lives of students with special needs. I wish to express my heartfelt gratitude to donors and partners who share our mission of training our students to be independent to the extent possible.
"TAMASOMA JYOTHIR GAMAYA", is our mantra.
From Darkness to Light – Transforming our students from "Existence to Life".
Radha Ganesan
Managing Trustee
Swabodhini Charitable Trust
Mob. 9940175577
APPOINTMENT OF NEW DIRECTOR
It gives us immense pleasure in welcoming Ms.Usha Pillai as the Director for Swabodhini school for special children. Ms.Usha Pillai has 30 years of experience spanning several industries which include HR consulting, IT education, Telecom, Tech support BPO, Accounting KPO and Holidays & leisure. She has acquired rich domain experience by virtue of building the necessary infrastructure, making the necessary capacity planning, streamlining operations through systems, processes and people to deliver client metrics and organization goals. She has conducted several training workshops in the areas of Diversity and Inclusion, including Gender Sensitization, Men as Gender advocates, Intentional career pathing, Leadership skills, Mentoring and POSH. She is Passionate about making a difference in the field of education at the grass root level.

ONE – ON – ONE SESSION WITH OUR FOUNDER – MRS.RADHA GANESAN
Mrs.Radha Ganesan has over 25 years of experience of working with children who have special needs. She is a post-graduate and a certified educator from the Rehabilitation Council of India.
One-on-One talk or Individual counselling is beneficial for parents of special children or any person who is interested to know more about the education of special needs children.
These sessions can help parents address queries, develop communication, time management, and emotional coping skills that they need to advocate for their child's needs.
Parents wishing to consult may please contact the school office for more details.
PRIMARY CLASSROOM INAUGURATION AT GURU NANAK COLLEGE
Primary class was inaugurated on 10.06.2019 at Guru Nanak college campus. We at Swabodhini believe inclusive education is a key step towards inclusion in life.
Inclusive education will help children learn appropriate behavior and develop relationships with the peer group.
The children will learn basic Math, English, Computer and Science as part of the primary curriculum.
The classroom was inaugurated by Mrs.Radha Ganesan. Mr.Balasubramanian, CAO and Mr.Kannappan, VP of Guru Nanak college were present for the inauguration.
We express our gratitude and thank the staff and management of Guru Nanak college for the classroom.
NEW STUDENTS FOR THE ACADEMIC YEAR 2019-20
| | | | |
| --- | --- | --- | --- |
| S.No | Name of the student | Class | Campus |
| 1 | Naveen Prasad | Pre-Primary | Thiruvanmiyur |
| 2 | Aaradhana | Pre-Primary | GNC |
| 3 | Sam Joel Raj | Pre-Primary | GNC |
| 4 | Sarvesh | Pre-vocational | Thiruvanmiyur |
| 5 | Rosario | Pre-vocational | Thiruvanmiyur |
| 6 | Thomas | Pre-vocational | Thiruvanmiyur |
| 7 | Joshua | Vocational | Thiruvanmiyur |
| 7 | Gunavathy | Vocational | Thiruvanmiyur |
| 8 | Srinath | Vocational | Thiruvanmiyur |
DONATION OF BUS BY ROTARY CLUB OF MADRAS EAST
Swabodhini would like to thank the members of Rotary Club of Madras East for donating SML Isuzu bus. The bus was handed over to Swabodhini by the District Rotary Governor on Wed, 24th April 2019.
The bus will be utilized by students of Swabodhini for experiential learning and outdoor activities.
Outdoor activities and experiential visits offer pre-primary and primary students a fun place to practice what they learn and develop social skills. The students can also experience a plethora of sensory stimulation, encourage large muscle movement and sensory-focused activities. These school educational trips provide every student with real-world experiences.
It is a significant contribution that will go a long way in improving the quality of education for children of Swabodhini. We thank Rotary Club of Madras East once again for the support towards a noble cause.
'Yoga is the Journey of the self, through the self, to the self' – The Bhagavad Gita
The students and teachers celebrated International Yoga Day at Swabodhini with great enthusiasm. Students demonstrated various asanas. Warm up exercises were taken and all the students performed sitting and standing asanas, the importance of these were explained simultaneously. The celebration concluded with breathing exercises and meditation.
Yoga has helped improve concentration, fine and gross motor skills.
GROUP BIRTHDAY CELEBRATION – June 2019
A birthday is a time to celebrate birth itself. At Swabodhini, we ensure that students enjoy by cutting a huge cake and taking part in mini cultural on the last Friday of every month.
Lokesh, Kesav, Nikhil Kumar, Hari Kumaresh, Vijay Krishna, Rishi Raj, Pritish, Venkata Subramanian, Dilip Kumar, Priyadarsini, Saravana Kumar and Prabahar Senthil celebrated their birthday with gusto.
Short skit based on a moral story was enacted by students followed by a dance performance and a social message from MahakaviBharathiyar.
BIRTHDAY CELEBRATION AT GNC CAMPUS
Students of Guru Nanak College celebrated Master.Danish's birthday by cutting a cake.
The students took interest to find out birthdays of Swabodhini's children and had arranged for a surprise celebration. We were overwhelmed by the surprise gesture of Guru Nanak college students.
STUDENT OF THE MONTH – MASTER VIJAY KRISHNA
At Swabodhini, we respect each child's individuality. We love to teach them in the way they want to learn. I recall the day when I first met Vijay Krishna at Swabodhini. A very hyperactive kid who hesitated to get inside the classroom and struggled to adjust. Our main goal was to make Krishna learn things like others in a classroom. We initially cut down our main goal into smaller tasks.
Task1: Make him sit in the classroom
We were able to achieve this through activity-based learning.
Task 2: Make him involve in classroom activities
We started with picture identification, where Krishna was hesitant to look down onto the desk. So we put up a board where the teacher sticks pictures and made him identify by removing the picture from the board. Krishna showed more interest in this activity and was able to identify objects quickly.
I want to rephrase a famous quote of an astronaut, "one small goal for us, a giant milestone for them." We at Swabodhini are eager to achieve more milestones in Vijay Krishna's life along with other students.
By Suba Wesley, Co-Ordinator Special Education.