January 2023 Newsletter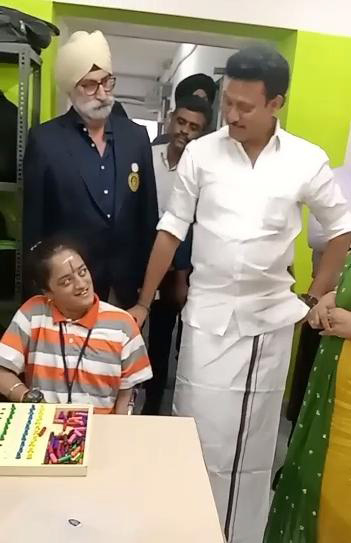 Foreword
Greetings from Swabodhini!
January 2023 started off fresh with the reminiscences of the previous two terms and a target to achieve greater heights in the third term.
Mr. Anbil Mahesh Poyyamozhi, Minister for School Education, Tamil Nadu visited our Velachery campus, interacted with our vocational students and appreciated the staff and the management of Swabodhini for their work in the field of Special Education.
A team of four people – a client of AGS Health visited our vocational centre and observed the children. They tried their hands at various activities such as jewellery making, block printing, weaving etc.
Pongal festival was celebrated with pomp and pleasure and as usual the birthday celebrations on the last day of the month.
Meet you all with new updates next month!
Best Regards,
Ms J.Nandini Priyakumari
Principal
Swabodhini School and Vocational Center for Special Children
A surprise inspection visit by Mr.Anbil Mahesh Poyyamozhi (Minister for School education)
On 6th January, Mr. Anbil Mahesh Poyyamozhi came to our Guru Nanak campus at Velachery and interacted with our children and watched them in action during their Vocational Training sessions in Retail, Culinary, Computer skills and Yoga. He was deeply appreciative, of the work that we are doing in the field of special education. He was accompanied by staff and Management from Guru Nanak Educational Society including Mr. Manjit Singh Nayar (General Secretary and Correspondent, Guru Nanak College)
Training at Writer's Cafe
4 of our students commenced their training at Writer's cafe, Taramani in the Popcorn Manufacturing Unit. We express our gratitude to Mr.Mahadevan and Mr. Tarun Mahadevan from Advantage Foods Pvt.Ltd. for their support towards this initiative, which will act as an important step towards long-term Assisted employment for our students.
Stall at World Bank and Guru Nanak College
We had set up a stall at World Bank office (Taramani and Perungudi). Products made by our vocational students (hand painted diyas, block printed products, beaded jewelry, hand woven materials etc) were on sale. On 12th January, we had also set up a stall at Guru Nanak College – Pongal Mela (the Entrepreneurial Fair)
Students participated in Quizabled
Our students participated in an online quiz competition organized by Spastic Society of Tamil Nadu and SEVA-in-ACTION .Four of our students got selected in the preliminary round and participated in the final round.
On 13th January, both our Centres celebrated Pongal in a grand manner. Students dolled up in ethnic wear and performed our traditional folk dance "Kummi". We prepared Pongal to thank the Sun God, and the farm animals for the bountiful harvest.
An article in Dinamalar about Swabodhini and our founder Ms. Radha Ganesan and her exemplary work in the field of Special education for 34 years and counting!!
On 27th January, we had visitors from AGS Health at our Velachery Centre. They observed our children at work and tried their hands on making anklets, paper bags and weaving. Our students thoroughly enjoyed playing games and interacting with them.
It is always a pleasure to have our corporate sponsors visiting our campus and spending time with our students. We look forward to have more such interactive visits with AGS Health.
On 28th January our Yoga Instructor Mr.Jagadeesan conducted a workshop on the importance of Yoga and Yoga for special children. It was massively relaxing and the Yoga techniques he shared were very helpful.
Our Principal Ms.Nandini Priyakumari conducted a session on "Learning styles" with interesting activities. The session was very informative and got to know more about different types of learning styles.
As usual we had birthday celebration for staff and children.