December 2022 Newsletter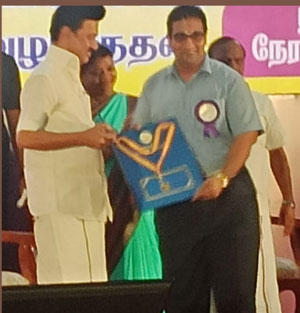 Foreword
Greetings from Swabodhini!
The month of December started on a celebrating note with our children – a team of senior and junior students with the title "Chennai Stars" dancing and singing on stage for the World Disability Day
We, the family of Swabodhini feel proud and elated to share that our former student, Mr.Balaji, placed as an employee at Grundfos Pumps India Pvt Ltd received the "Best Employee" award from our Honourable Chief Minister Mr. M.K.Stalin – another feather to our cap.
A team of special educators from Worth Trust and SCAN visited our Velachery campus and exchanged valuable ideas for the future of children with special needs.
Being the end of the second term, the later part of the month was busy with assessments and Progress Review Reporting and Parent-Teacher meetings.
The term ended with Christmas Day celebrations with gifts galore from Chris Mom to Chris child and wishing each other, heralding the New Year 2023.
Wishing you all a Happy and Prosperous New Year 2023.
Best Regards,
Ms J.Nandini Priyakumari
Principal
Swabodhini School and Vocational Center for Special Children
Our students participated in district-level cultural selection on 2nd December.
A team of special educators from Worth Trust visited our campus to observe the activities performed by our vocational students.
With great pride and happiness, we would like to share that our former student Mr.Balaji received the "Best Employee" award from our Honourable Chief Minister Mr. M.K.Stalin on "World Disability Day". He is the breadwinner of his family and has been working for Grundfos India for the past 12 years. We wish him all the best for a great future and a fulfilling career at Grundfos.
We would also like to thank Grundfos for creating a wonderful environment where people with different abilities are welcomed and trained to acquire new skills and are given the space to grow to their full potential. Our association with Grundfos is now 12 years old and over the years, 13 of our students have been placed in different capacities.
On 11th December our students participated in a 1km run in aid of Pediatric Cancer treatment as a part of the Chennai Runs event. Even the rains could not dampen their spirit and they turned up on time at the venue and participated actively.
II Term Assessment and PRR Meeting
Assessments were held in the second week of December, followed by PRR Meetings at both Centers.
On 20th December, Grundfos Pumps India Pvt. Ltd. hosted our vocational students and staff for a Field visit. Our students were exposed to the safety regulations observed in the shop floor. They interacted with the CEO Mr. George Rajkumar, Plant Manager Mr. Debashis, and other employees of the factory.
We wrapped up this term with Christmas celebrations with all the staff dressed in Red and Green. Arrangements were made in a short span of time amidst assessments and PRR meetings. The decorations were wonderful and the overall atmosphere was charged with much energy and enthusiasm.