December 2019 Newsletter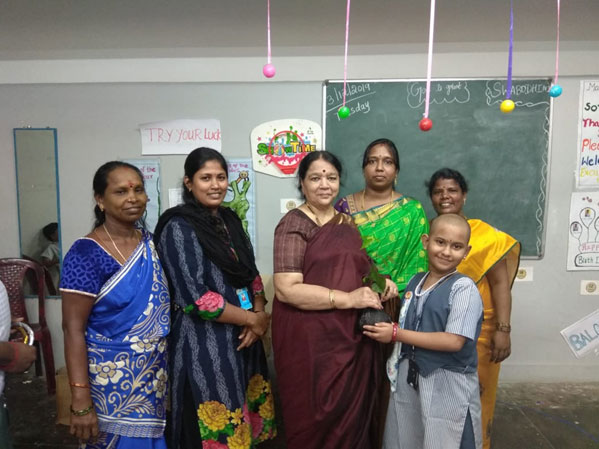 Dear All
Second term has come to an end. Whatever Swabodhini is today is because of the wonderful kind hearted people joined us in our mission. 'Giving is not just making a donation. It is about making a difference". Every year is a blessing to have more people joining Swabodhini and making a difference in the life of these children.
Our school participated in various programs such as
a. Project Day
b. Christmas Day Celebration
c. Vidya Sagar Mela.
The Progress Review meeting went on well and the children were happy.
We are happy to expand our activities in Guru Nanak College in the month of December. The Guru Nanak college was kind enough to give their auditorium for the Christmas celebration. Some of the staffs sat through the program and sang songs, distributed gifts and provided lunch for the children. It was a wonderful inclusive environment to celebrate the program with our children and parents.
We are in the end of the year 2019, I thank everyone who made difference in the life of our special children during this year.
With Regards
Dr. Vijayalakshmi (PhD)
Director
Induction Of New Director
It gives us immense pleasure in welcoming Dr N.K.VIJAYALAKSHMI as the new Director for Swabodhini school for special children and vocational center.
Dr Vijayalakshmi (PhD) has 19 years of work experience in the field of research, social work, NGOs, community and academics.
Her education includes B.A Sociology and M.A Social Work at Stella Maris College (Specialization: Medical and Psychiatry). After ten years of work experience, she pursued Ph.D. in Social Work at Madras School of Social Work affiliated to Madras University. Also, she has done Post Graduate Diploma in Guidance and Counseling.
She had worked actively towards the benefit of individuals affected with Tuberculosis and Leprosy nationwide and presented papers in national and international conferences on Tuberculosis related issues.
'It gives great pleasure and satisfaction working for special children with autism. The aim is to make a difference in the life of these children at Swabodhini- Dr Vijayalakshmi.'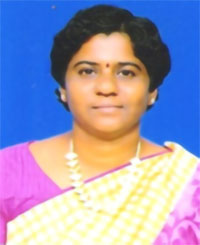 Dr. N K Vijayalakshmi (PhD)
Project Day At Swabodhini
At Swabodhini, 'Project Day' is conducted every year, this time of the year. 'Project Day 2019' was held on 3rd December at Guru Nanak College, Velachery center for all students from Pre-primary to Vocational. We loved the enthusiasm among students and teachers in choosing the topic and making models and charts for Project Day.
Undertaking project work on different topics helped the students to strengthen their competence to think and analyze critically and assesses sources and trained the students to work in a co-operative environment. The students showcased their talents in Language, Science, Mathematics, Computer science, Art & Crafts.
It was mass participation with working and static models based on themes. The most significant achievement of this exhibition is that the students did everything on their own without much help. The Principal, Guru Nanak College, Autonomous, Dr M.G. Ragunathan inaugurated the project day. He appreciated the efforts of the students and teachers in making the project day a grand success.
Parents and visitors keenly interacted with students, who were able to explain their projects on display confidently. The event helped prospective donors and parents to interact with our team, tour our facilities, understand our outreach programs and opportunities to support Swabodhini.
We are delighted to announce that Mr. Harish Lakshman has been appointed to the Board to Trustees at the Swabodhini Charitable Trust.
Mr.Harish Lakshman is Vice Chairman of Rane Group, a USD 750 million automotive components manufacturing group based in Chennai. He has 24+ years of corporate experience across various roles in TRW and Rane Group and has been instrumental in expanding Group's international presence and product portfolio. As an active member of several industrial associations and government panels he is a well-regarded spokesperson of automotive industry.
Mr.Harish was recognized by Economic Times as one among the top 40 under forty India's Business Leaders in 2014. Apart from Rane Group, he also serves as Independent Director in Oriental Hotels and participate in other trusts such as Rane Foundation and Worth Trust.
Post his bachelor's in Mechanical Engineering from BITS Pilani, he completed his master's in Business from Krannert School of Management at Purdue University, USA.
We truly believe that his experience and insights will bring great value and guidance to our organization.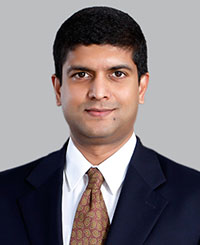 Christmas brings cheer and love, and we celebrated it with the same enthusiasm, spreading the message of love and joy among our students. Christmas celebrations were held at Guru Nanak College auditorium. Mr Suresh George, Dean of Academics, inaugurated the celebrations wit opening prayers followed by students from Swabodhini Thiruvanmiyur center reciting parables from the Holy Bible. Guru Nanak College students set up Christmas Nativity scene. A Nativity scene, also known as a Manger Scene is the special exhibition of art objects representing the birth of Jesus.
Then cultural programs started with a dance performed by Thiruvanmiyur and Velachery center students. Then there was skits performance with social messages from the Holy Bible. At the end of the cultural programs, all the students were distributed Santa Clause hoods, painting kits and water bottles by Guru Nanak College staff. There was also an arrangement for refreshments.
Mr. Fredrick John from 'PEACE – People Empowering Art Culture and Emotions' performed Beat-box and Rap music with his band. Our students were awestruck with Mr. John Asir's, alumni of Guru Nanak College performance of puppet show and balloon art.
There was also a surprise element towards the end where the Novotel group of Hotels distributed Christmas gifts to our students. The program ended with a closing prayer recited by Ms. Christina, A.O Guru Nanak College.
Students and teachers of Swabodhini had set up a stall at Vidya Sagar special school located at Kotturpuram on 23rd and 24th December. Visitors appreciated and purchased products made by students of Swabodhini.
Vidya Sagar is a rights-based organization, with emphasis on creating awareness in the community on issues related to disability and advocating rights for persons with disabilities. Vidya Sagar today runs several programs reaching out to over 3800 individuals with disabilities. The team also work towards creating employment opportunities and training of resource persons to work in the field of disability.
PRR meet was held in December to review the progress of students for September- December quarter.
Our children's progress is continuously monitored at school, through the steady stream of activities, therapy and standardized tests.
Parent – Teacher's meet encourages
meet and get to know each other, and the management
build a positive relationship
Share information about the child's progress & student report.
5 Myths About Autism Busted
Myth: Autism affected individuals cannot feel or express any emotion.
Truth: Autism does not make an individual unable to feel the emotions you feel; it just makes the person communicate feelings (and perceive your expressions) in different ways.
Myth: All individuals with autism have low I.Q.
Truth: Many people with autism have normal to high IQs, and some may excel at math, music or another pursuit.Frequently, autism brings with it just as many exceptional abilities as challenges.
Myth: Individuals with ASD will grow out of this condition after some time.
Truth: Autism stems from biological conditions that affect brain development and, for many individuals, is a lifelong condition.
Myth: Autism only affects children.
Truth: Children with autism grow up to become adults with autism.
Myth: Autism is just a brain disorder.
Truth: Research has shown that many people with autism also have co-occurring conditions like epilepsy, gastrointestinal disorders, food sensitivities, and many allergies. Source / Courtesy: www.autismspeaks.org