October 2022 Newsletter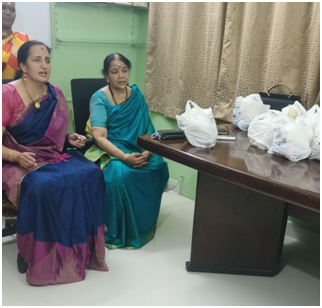 Foreword
Hello all,
The month of October brought with it much cheer as we ushered in the festive season with colorful celebrations in school for Navratri and Diwali. Our students have started participating in external events, competitions and educational/ fun visits. These visits and events provide our students with the much needed opportunity to improve their social and life skills. This is something that they had sorely missed out on in the last 2 years because of Covid.
Interns from other institutions have started pursuing their internships in both Thiruvanmiyur and Velachery campuses. They come from varied backgrounds and have been assisting us in Art Therapy, in class teaching etc;
Over the last year, 4 students from Vidyasagar were pursuing the 1 year Vocational Course in Retail Skills from our center in Guru Nanak School. They completed the course this October and will be receiving their certificates from Guru Nanak College (Autonomous)!! This highlights our efforts in partnering with more institutions on the ground to ensure that we all work towards the common goal of empowering as many differently abled individuals as possible.
The staff has also been motivated a lot by the great feedback we received from the parents in the previous term and have been working hard to incorporate the suggestions received regarding areas of improvement. With this energy we are already half way through the current term and we hope that the days to come will bring in more positivity.
Please do go through the newsletter for this month and we will get back to you with our next edition soon enough!!
Mrs. Nandhini Priyakumari
Principal
Swabodhini School and Vocational Center for Special Children
Saraswati Puja celebrations
On 3rd October, we celebrated Saraswati puja elaborately with an invocation song, puja and distributed sweets to all students and staff.
On 10th October, Saveetha Dental College and Hospital, conducted a dental camp for our students and staff. They also created awareness among students about brushing routine and dental health. We are grateful to the doctors from Saveetha Dental College and Hospital who voluntarily conducted the Dental camp at both our Centers.
Diwali Celebration at VGP
On 15th October our students attended the ROTARY DIWALI program at VGP. Every year, Rotary celebrates Diwali, by arranging a fabulous outing to VGP Universal Kingdom to students from various NGOs. This year, our vocational students had a wonderful time at VGP Universal Kingdom by enjoying fun rides and dancing with other students from various NGOs.
District Differently Abled Welfare Officer visited our Thiruvanmiyur centre on 19th October. They also had discussion with our management on the services provided by the government that we can tap into and how other institutions are providing employment avenues for differently abled individuals.
As the diwali celebrations over two years was dampened due to pandemic, this year we celebrated with much splendour. It was joyful when all our students from both the centres met together to celebrate diwali. Everyone dolled up in ethnic wear, lit up sparklers, fireworks and enjoyed the scrumptious diwali sweets.
Barclays Virtual Interaction
Every month we have an interactive session virtually with Barclays, our corporate donor. In this session we had a discussion on the topic "Diwali Celebration". All the students shared the wonderful experiences that they had during diwali holidays. We thank Barclays for conducting such interactive sessions, which will improve the communication skills of our students.
General health check-up by Guru Nanak Medical Centre
On 20th October Guru Nanak Medical centre conducted a general health check-up camp at Guru Nanak Centre. Doctors from Guru Nanak Medical Centre examined blood pressure and other parameters of the students, staff and support staff.
As usual we had the birthday celebrations for staff and children.